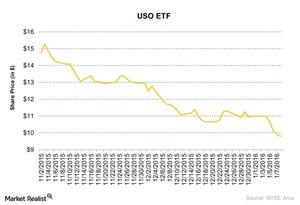 Growing Conflict in the Middle East Pushes Crude Oil to New Lows
By Sarah Sands

Dec. 4 2020, Updated 10:52 a.m. ET
Conflict in the Middle East
The growing conflict in the Middle East between Saudi Arabia and Iran, the major oil-producing countries of OPEC (Organization of the Petroleum Exporting Countries), has become a threat for crude oil prices. The conflict between these two countries arose after Saudi Arabia executed 47 people convicted of terrorism on January 2, 2016. Shiite cleric Nemer al-Nemer was among those executed.
Iran had already warned Saudi Arabia that it would face immediate consequences if it went through with the executions. After the executions, various protests in Iran called for the ruin of Saudi Arabia's current government. Saudi Arabia cut diplomatic ties with Iran and gave Iranian diplomats 48 hours to leave the country.
Article continues below advertisement
Lower oil prices: A threat to the global economy
At the time of the executions, crude oil prices had inched up slightly, as investors were expecting a supply disruption in the Middle East. But the conflict resulted in oil going in the opposite direction, and crude oil hit new lows. Crude oil prices fell as two major oil exporters competed to flood the crude oil market with vast supplies and not cut production. If this scenario continues, we can expect a further fall in crude oil prices.
China's (MCHI) economic slowdown, however, added strength to the downward direction of crude oil. Since China is the second-largest consumer of crude oil, contraction in its economic activity has a direct impact on the demand for crude oil. All of these factors show that global economic growth may slow down further in 2016 compared to the slowdown in 2015.
Impact on the market
US oil (USO) fell 11.3% in the week ended January 8. US major integrated oil and gas stocks such as Exxon Mobil (XOM), Chevron (CVX), and Occidental (OXY) fell 3.4%, 7.7%, and 8.2%, respectively, that week.
In the next part of this series, we'll look at the impact of North Korea's alleged hydrogen bomb test on the world economy.