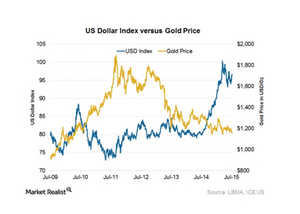 Gold Rose despite the Strengthening US Dollar
Dollar-denominated assets
The US dollar and precious metals are usually inversely related to each other, as the metals are priced in the US dollar, so a strong US dollar pushes away investors who use other currencies, as they may have to shell out more of their home currency to buy gold or any other dollar-based asset. The below chart shows the inverse relationship between gold and the US dollar.
Article continues below advertisement
Current turmoil
However, an exception to this relationship is the current turbulence that has caused investors to panic and seek safety. Gold is traditionally known as a haven asset that investors opt for when markets experience turmoil. The current Chinese stock market rout that extended to the world markets has caused gold to gain 4% since the start of the year. In the same period, the US dollar also increased 0.72%. These price movements go against the inverse relationship we saw above.
The dollar has been on a winning streak and has gained about 1% during the past one month, but it didn't keep investors away from the precious metals, as net long positions are increasing in the SPDR Gold Shares (GLD) and the iShares Gold Trust (IAU).
Mining-based stocks, however, went on a roller-coaster ride of gains and losses. Overall, most of the mining stocks fell. Franco-Nevada (FNV), Silver Wheaton (SLW), and Alacer Gold (ASR) have lost 9.1%, 6%, and 7.1%, respectively, during the past five trading days. The volatility in the mining stocks has risen along with the gold price.