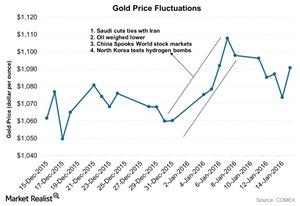 Is Gold Poised to Reclaim Its Safe-Haven Status in 2016?
By Meera Shawn

Jan. 19 2016, Updated 5:53 p.m. ET
Gold in 2015 versus 2016
Throughout 2015 with all its turbulence and market-affecting events, gold didn't move much. In fact, the only thing that had a crucial impact on gold was the decision by the Federal Reserve to raise the interest rate. As we know, a higher interest rate isn't good for precious metals, as these metals pay no interest and thus generate no cash flow. Raising rates merely weighs them down.
Gold and silver fell 10% and 12%, respectively, in 2015, and fear began to set in for precious metal lovers. The iShares Silver Trust (SLV) and the SPDR Gold Shares (GLD) also lost a considerable portion of their investments.
But 2016 arrived, and the new year brought with it a completely new picture. Macroeconomic events played their game on precious metals. Gold and silver have risen 2.9% and 0.78%, respectively, since the start of the year.
Article continues below advertisement
Major events
Let's look at some of the 2016 events that have advanced the safe-haven demand for gold.
Saudi Arabia cut ties with Iran.
North Korea claimed to have tested a hydrogen bomb, triggering fear among neighboring countries.
The Chinese market spread tumult around the globe with numerous yuan devaluations.
Oil prices plunged sharply.
The events in 2015 didn't cause such a sharp rise in gold. Here are some 2015 events that kept gold prices swinging between gains and losses throughout the year:
the Turkey-Russia crisis
the much-spoken-of Grexit
the Paris terrorist attacks
the Russia-Syria unrest
During economic and financial tensions, investors often desert their stereotypical investments and flock to safe-haven assets such as gold and Treasuries, thus resulting in their prices becoming firmer. Strengthening gold prices have also given a temporary lift to gold mining–based stocks such as Barrick Gold (ABX), AngloGold Ashanti (AU), and Yamana Gold (AUY). Together, these three stocks make up 15.3% of the price changes in the VanEck Vectors Gold Miners ETF (GDX).