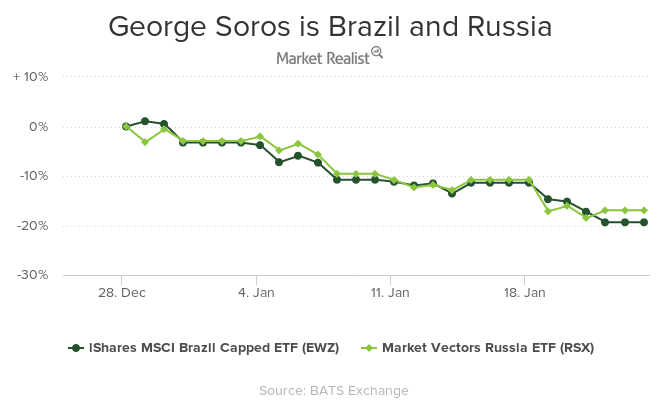 George Soros Is Bearish on Brazil, Russia, and Asian Currencies
By Surbhi Jain

Nov. 20 2020, Updated 12:11 p.m. ET
Soros bearish on Brazil, Russia, and Asian currencies
We've discussed George Soros's dislike for US equity and his preference for US Treasury bonds earlier in this series. Moving beyond the United States, Soros is also bearish on commodity-producing countries and Asian currencies. His stance on commodity-producing countries could be proven by the current state of Brazil and Russia.
[marketrealist-chart id=994264]
Article continues below advertisement
Brazil is in recession
Brazil (EWZ) is the worlds' largest producer of coffee, and also one of the leading producers and exporters of commodities like iron ore, crude petroleum, soybeans, sugar, and meat. Its top five exports account for 37% of its total exports. Also, the top five exports are all commodities.
Iron ore producers like Vale (VALE), Gerdau (GGB), and Companhia Siderúrgica Nacional (SID), oil firms like Petrobras (PBR) (PBRA), and meat producers like BRF (BRFS) dominate the business landscape in Brazil. With the commodity price slump, the Brazilian economy is seeing its worst days ever.
Brazil is currently in a recession that's the worst one in years. Its sovereign debt rating stands at "junk," and the ten-year government bond yield is at ~16.8%. Inflation has reached a high of 10.7%, unemployment in the economy stands at 7.5%, and its manufacturing sector has been in contraction for 11 months in a row.
Article continues below advertisement
Soros discusses the impending collapse of Russia's economy
The Russian government derives about 50% of its budget revenues from oil and natural gas industry taxes. About 25% of the country's gross domestic product is linked to the energy industry. Oil exports form the backbone of the Russian economy, and Brent is at $33.4 a barrel. With the oil price slide, the revenues of Russian oil firms such as Rosneft (OJSCY), Lukoil (LUKOY), and Surgutneftegas (SGTZY) have taken a hit.
Soros sees Russia (RSX)(RUSL) in a "very weak position." However, he does believe that the country has enough reserves to last it a couple of years. It might see a lot of debt coming due in 2017.
Russia may need to cut its budget further from ~6% to ~3%. This may disturb the social compact that has been so popular in the economy in terms of financial stability a gradual rise in the standard of living.
The investment climate for Asian currencies also seems to be clouded by a bearish investor sentiment. China (FXI) (YINN) has already devalued its currency on several occasions in the recent past. Then there's a potential wave of currency devaluations coming from other Asian countries, including South Korea, Singapore, and Taiwan, in an attempt to boost their respective economies. Read, Asian Currencies Drop as Currency War Risk Intensifies.