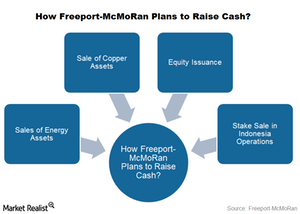 Freeport-McMoRan Plans to Cut Its Debt by $10 Billion—But How?
By Mohit Oberoi, CFA

Nov. 20 2020, Updated 5:20 p.m. ET
Freeport-McMoRan's debt reduction plans
During the company's 4Q15 earnings conference call, Freeport-McMoRan's (FCX) chief executive officer, Richard Adkerson, stated the company would "take immediate steps to reduce debt to enhance shareholder value."
The company is examining all alternatives, including asset sales of both energy and copper, equity issuance, and a stake sale in Indonesia operations. Overall, Freeport-McMoRan is planning to generate $5 billion–$10 billion to shore up its balance sheet. The company is looking at multiple transactions to achieve this steep target.
Article continues below advertisement
How easy is it?
However, this goal looks easier said than done. Raising equity would mean long-term value destruction looking at Freeport's depressed stock price. Nonetheless, equity issuance could be the easiest route through which Freeport-McMoRan can raise cash. The company has already raised $2 billion through this route last year.
Interestingly, while Freeport raised fresh equity last year, Teck Resources (TCK) ruled out an equity issuance citing its depressed stock price. Plus, Southern Copper's (SCCO) billionaire owner Germán Larrea Mota-Velasco has been buying SCCO's stock.
Asset sales
As for copper asset sales, there might not be many takers for high-cost mines. Selling low-cost operations would be easier, but it would hamper Freeport's earning capacity. In the energy business, Freeport has been looking at asset sales for quite some time. The company had planned an IPO of the energy business—a plan that seems abandoned now—and selling energy assets is a possibility. However, according to a Reuters report, Freeport's energy assets might not yield more than $3 billion.
With each passing day, the market environment only seems to deteriorate. In such a scenario, Freeport's debt reduction target looks quite aggressive. As for investors, they can only wait and watch for the company's upcoming strategic announcements. Overall, Freeport investors should keep their seatbelts tightened in what looks like a very challenging year.
Keep visiting Market Realist's Copper page to keep track of Freeport-McMoRan's announcements.
You can also consider the Materials Select Sector SPDR ETF (XLB) to get a diversified exposure to the materials sector. Together, Freeport-McMoRan and Newmont Mining (NEM) form 3.5% of XLB's portfolio.