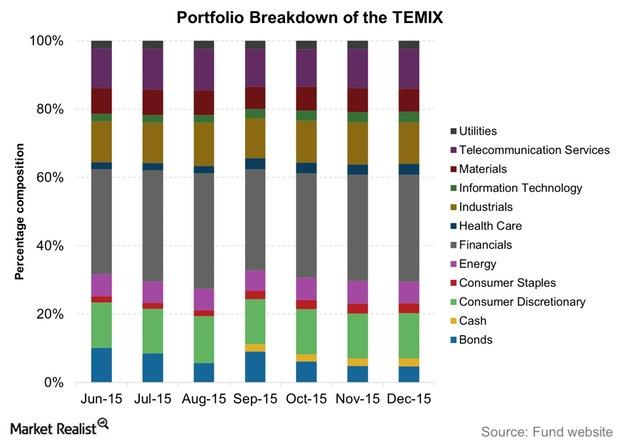 How the Franklin Mutual European Fund Allocated Its Portfolio in 2015
By David Ashworth

Jan. 25 2016, Published 4:18 p.m. ET
Franklin Mutual European Fund
The Franklin Mutual European Fund – Class A (TEMIX) "invests at least 80% of its net assets in securities of European companies that the investment manager believes are available at market prices less than their value based on certain recognized or objective criteria (intrinsic value)." What this means is that fund managers look for undervalued securities by arriving at an intrinsic value of that security and seeing whether it is trading below that value. It also invests in merger arbitrage securities and stocks and bonds of distressed companies.
In normal circumstances, fund managers spread the fund's assets across companies from at least five different countries. It can also invest up to 20% of its assets in instruments issued by companies located in the US, the Middle East, emerging markets, and other regions.
Article continues below advertisement
The fund's assets were spread across 78 holdings (stocks, bonds, and currencies) as of December 2015, and it was managing assets worth $3.1 billion as of the end of December. As of December, its equity holdings included Nokia (NOK), Deutsche Telekom (DTEGY), XL Group (XL), Koninklijke Philips (PHG), and UniCredit (UNCFF).
Historical portfolios
For this analysis, we will be considering holdings as of September 2015, when the fund made available its latest sectoral breakdown. The holdings after September reflect the valuation-driven changes to the portfolio, not the actual holdings.
Financials are the biggest sectoral holding of TEMIX, making up over 30% of the fund's portfolio. A distant second and third are the consumer discretionary and industrials sectors, which form a combined one-fourth of the fund's assets. Interestingly, fund managers have allocated over 10% of the portfolio to stocks from the telecom services sector, making it the only fund in this review with a double-digit allocation to the sector.
Article continues below advertisement
Another interesting thing to note about the TEMIX's sectoral composition is its allocation in the healthcare sector. Though it has increased through 2015, it still stands at only ~3% of the net assets, which is much lower than its peers in this review. Apart from healthcare, utilities, and information technology sectors have seen their share increase in the past year as well.
On the other hand, consumer discretionary, industrials, and materials have seen their respective shares fall in the period.
Also, consumer discretionary, materials, and financials saw higher exposure intra-year than at the beginning, but towards the end of the year, exposure to these sectors tapered down. On the other hand, consumer staples saw reduced exposure intra-year, but the sector's share has firmed up since then.
Let's see how TEMIX has performed in 2015 in the next article.