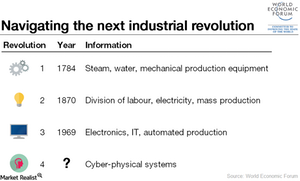 The Fourth Industrial Revolution: What You Need to Know
By Sarah Sands

Jan. 22 2016, Updated 10:32 a.m. ET
Fourth industrial revolution
The fourth industrial revolution will follow the third industrial revolution and the digital revolution that have been ongoing since the middle of the previous century. The first industrial revolution used steam power and water to automate production. The second industrial revolution used electric power for huge production, and the third revolution used computer science and information technology to automate production.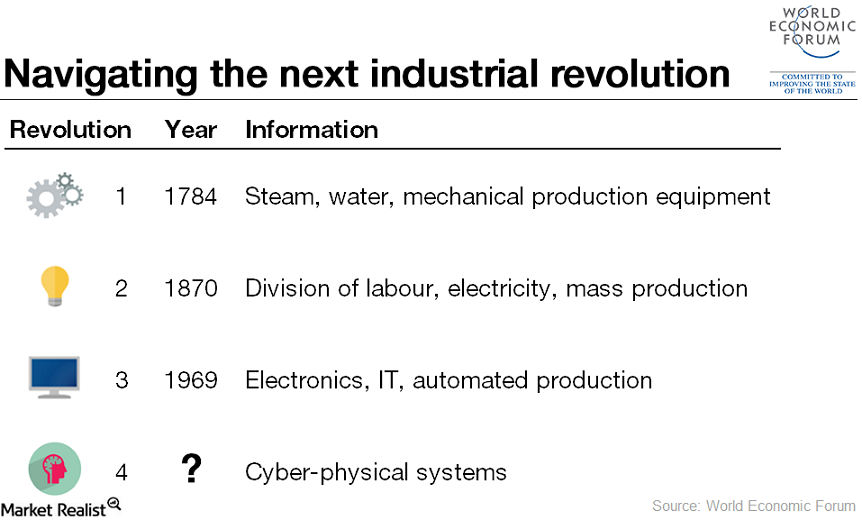 Article continues below advertisement
Challenges and opportunities: The fourth industrial revolution
This industrial revolution has the potential to raise the global income and improve quality of life around the world.
Technological innovation will increase efficiency and productivity. It will reduce the cost of logistics, transportation, and communication. It will open a new market for investors and drive economic growth.
On the other hand, economists Erik Brynjolfsson and Andrew McAfee have pointed out that this revolution may create inequality in the labor markets.
Automation will substitute demand in the world labor market.
These economists also stated that technology will be the main reason for income stagnation. Demand for highly skilled workers will increase and demand for workers with less education and fewer skills will decrease.
Impact on business
This fourth revolution will highly benefit for business because it will introduce new technologies that create new ways of serving existing needs. Industries will benefit through accessing the global digital platform for research, development, sales, and marketing. Growing transparency and high consumer engagement will enhance the business process.
Major US (SPY) technology companies such as Apple (AAPL), Microsoft (MSFT), Oracle (ORCL), and Facebook (FB) will benefit from this development in time.
In the next part of this series, we'll discuss the future of jobs.