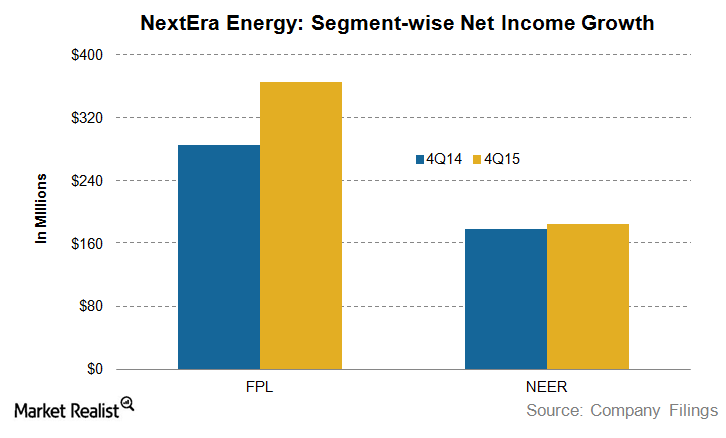 Florida Power & Light Makes NextEra Energy Shine in 4Q15
By Vineet Kulkarni

Jan. 29 2016, Updated 4:01 p.m. ET
Florida Power & Light
NextEra Energy's (NEE) regulated utility subsidiary Florida Power & Light (or FPL) continued its magnificent performance in 4Q15. It reported quarterly net income of $365 million, or $0.79 per share, in 4Q15 compared to $286 million, or $0.65 per share, in 4Q14.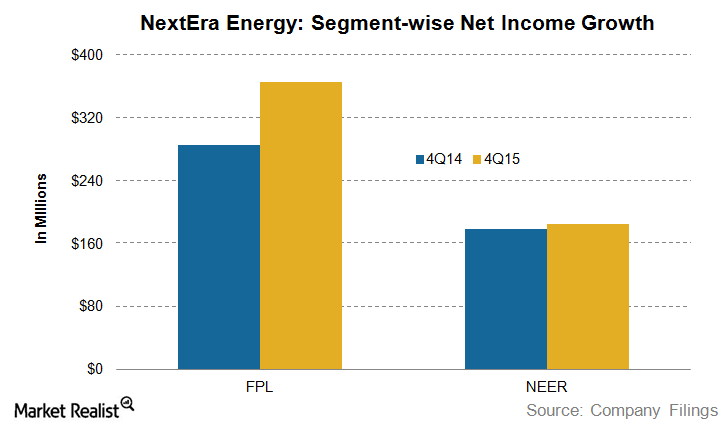 Article continues below advertisement
Weather and economic factors
FPL's net income grew by 27% in 4Q15 over the comparable period last year. This growth was mainly driven by an 11.7% rise in sales in 4Q15 compared to 4Q14. The rise in sales was a result of customer base growth and higher weather-related usage per customer. During the quarter, NextEra's customer base grew by 1.4% compared to the prior year's quarter.
Economic factors also continued to positively impact NextEra's earnings. Florida's unemployment rate in December 2015 fell to 5%, 0.7% down from December 2014. The number of jobs in Florida in December 2015 was up 2.9% compared to December 2014.
In 2015, continued investment was the principal driver of FPL's growth. Its regulatory capital employed rose by ~7% compared to 2014.
NextEra Energy Resources
NextEra's competitive energy business segment, NextEra Energy Resources, reported $185 million in net income compared to $179 million from last year's period. The segment posted flat earnings compared to 4Q14, reflecting contributions from new investments being offset by higher interest expenses. Earnings from NextEra Energy Resources were mainly driven by its capacity additions during the year.
During 2015, NextEra Energy Resources signed nearly 2,100 MW (megawatts) of new contracted renewable (PBW) capacity, including approximately 1,400 MW of wind (FAN) capacity and approximately 700 MW of solar (TAN) capacity.
In the first nine months of 2015, Southern Company (SO) added 1,000 MW of renewable capacity. Duke Energy (DUK) is also actively adding to its renewables generation capacity.