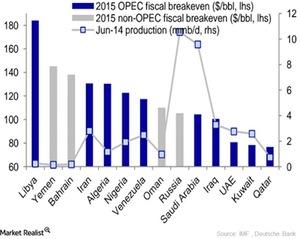 Fiscal Break-Even Cost for the Top Oil-Dependent Economies
By Rabindra Samanta

Jan. 22 2016, Updated 1:04 a.m. ET
Fiscal break-even cost for oil-dependent economies
In its recent outlook, OPEC (Organization of the Petroleum Exporting Countries) stated that crude may not reach $95 by 2040. The fiscal break-even cost for different OPEC countries is more than $70 per barrel. Saudi Arabia's fiscal break-even cost is ~$105. The US (SPY) is an important market for Saudi Arabia. In contrast, Iran's fiscal break-even cost is around $130 per barrel.
All of the statistics above indicate a high fiscal deficit for OPEC members in the coming years. A high fiscal deficit indicates a cut in government spending. This can spread social unrest among different OPEC nations. Experts expect a high fiscal deficit related to the leadership crisis whether in individual OPEC nations or in OPEC itself.
Article continues below advertisement
Since crude oil will likely stay at the current levels for the next few years, OPEC countries will face serious leadership challenges in the future. Lower crude oil prices are a direct loss for crude oil exporters. Oil exports account for a significant portion of OPEC members' GDP (gross domestic product). Countries like Libya and Algeria faced a high fiscal deficit in 2015. Libya's fiscal break-even cost is above $180 per barrel. Higher volumes are the only way to drive the revenue at lower energy prices. This can lead to lower crude oil prices. All of this means a more divided OPEC. It could signal plenty of oil in the future.
The above chart shows the fiscal break-even costs for prominent OPEC nations and other top producers.
Other top producers' fiscal break-even cost
Russia (RSX) is an important player in crude oil. Its export fiscal break-even cost is around $105. Russia in a non-OPEC member country. Gazprom PAO (OGZPY) operates with a production mix of 10% in crude oil. Lukoil (LUKOY) operates with an 85% production mix in crude oil.
Gazprom PAO, Lukoil, and Tatneft (OAOFY) represent the large-cap Russian ADRs (American depositary receipts) in the oil and gas sector. In the next part, we'll discuss how the strong dollar impacts crude oil prices.