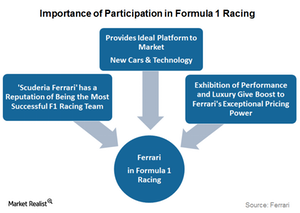 How Ferrari's Formula 1 Racing Team Became So Critical to Its Image
By Jitendra Parashar

Nov. 20 2020, Updated 3:18 p.m. ET
Scuderia Ferrari
The Scuderia Ferrari racing team was formed in 1929, years before Ferrari (RACE), the Italian car manufacturer, came into existence. Thus, there is an inseparable relationship between the Ferrari brand and car racing. The Scuderia Ferrari Formula 1 racing team has a highly successful track record. This racing heritage has made Ferrari a worldwide symbol of performance, style, and luxury.
Article continues below advertisement
Ideal platform to market the brand
Ferrari spends extravagantly on Formula 1 events, as its Formula 1 racing team has been critical to the brand's image. These sponsorships also can be seen as an ideal medium to display its latest technology to target consumers rather than using traditional advertising.
In terms of participation and attention to racing activities, Ferrari remains ahead of other major sports car manufacturers like Mercedes, owned by Daimler (DDAIF), Renault (RNLSY), and Honda (HMC), who are also involved in Formula 1 racing. This offers Ferrari a competitive advantage from a marketing angle that no other traditional advertising medium can provide. Ferrari's Formula 1 activities are closely tracked by many sports car enthusiasts. Interestingly, 34% of Ferrari consumers own more than one Ferrari.
Low volumes allow Ferrari to focus on racing events
In 2012, Ferrari touched its highest sales figures by shipping 7,405 road cars. As per its strategic business plan, the company is likely to go with a low volume strategy in the future as well. By 2019, the company plans to increase shipments to 9,000 units per year. By keeping low production volumes, Ferrari can focus on racing events, unlike other major brands participating in Formula 1. Note that Fiat Chrysler Automobiles (FCAU) currently holds an 80% stake in Ferrari.
The First Trust US IPO Index Fund (FPX) has around 2.1% of its portfolio invested in Fiat Chrysler Automobiles (FCAU).