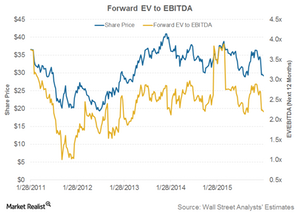 Factors that May Affect General Motors' 2016 Valuation Multiples
By Jitendra Parashar

Updated
Current valuation multiples
General Motors (GM) has a forward EV-to-EBITDA (enterprise value to earnings before interest, tax, depreciation, and amortization) multiple of 2.1x for the next 12 months. This is comparatively lower than its closest peers. The forward EV-to-EBITDA for Ford Motor Company (F) and Toyota (TM) is trading at 2.8x and with 4.7x, respectively. This multiple tells us how a company is valued for each dollar of EBITDA.
Among the big auto industry players, Fiat Chrysler Automobile has the lowest EV-to-EBITDA multiple of 1.7x. These valuation multiples can move lower or higher based on various internal and external risk factors that we'll discuss in this final part of the series.
Article continues below advertisement
Risk factors affecting GM's valuation
As we noted earlier in this series, analysts are anticipating the expansion of General Motors' profit margins in 2016 and 2017. However, a recent decline in the company's global market share could be a reason for concern.
The company's performance in South America and China has also been disappointing in recent years. Plus, GM's plan to cut fleet sales in North America has taken a visible toll on its revenues. These concerns of limited revenues growth might have lowered the company's future growth estimates, which would lead to lower valuation multiples.
Risk related to auto demand
The auto industry (XLY) is highly cyclical in nature. Therefore, it becomes important for investors to pay attention to overall auto demand apart from any company-specific factors. North American auto demand already expanded to 17.38 million last year, growing by 6% from the year earlier—the highest in US auto sales history.
Any possible decline in automobile demand could pose a risk to the auto industry. This situation could lead to lower future growth estimates and may raise the possibility to lower valuation multiples for auto companies, including General Motors. General Motors is highly dependent on North American auto demand, as is Ford Motor Company and Fiat Chrysler Automobiles.
We will be posting a series of articles to update investors soon after the company's earnings release on February 3, 2016.