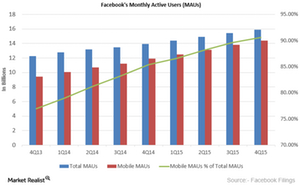 Facebook Investments Bore Fruits: Significant Growth of Mobile Users in 4Q15
By Parker Thomas

Jan. 28 2016, Updated 6:42 p.m. ET
Mobile MAUs (monthly active users) account for 90.6% of all MAUs
Advertising is the core of Facebook's business, constituting 97% of the company's overall revenues in 4Q15. Facebook continues to attract more advertisers with its innovative advertisement solutions, such as carousel ads and dynamic product ads.
The company now has more than 2.5 million advertisers on Facebook (FB) itself. Also, Instagram was estimated to earn $570 million in ad revenues in 2015, which would mean growth by four times, to reach $2.4 billion in 2017, according to eMarketer. In fact, the company had rolled out Instagram ads to 30 countries, compared to only eight counties before September in 2015.
Article continues below advertisement
From the graph above, we can see that Facebook users continued to shift from desktop web portals to mobile apps or WAP (wireless application protocol) service. Facebook's MAUs mobile monthly active users saw significant growth in 2015, constituting 90.6% of total MAUs, which increased by 5.28 percentage points YoY (year-over-year).
User growth in US and Europe
According to Facebook (FB), an average adult spends 25% of their media time on mobile devices. The company also claims that Facebook and Instagram together account for more than 20% of users' mobile device time in the United States. This has resulted in Facebook's revenues from mobile ads increasing at a faster rate, and these constitute 80% of total advertising revenues for the most recent quarter.
Article continues below advertisement
In 4Q15, Facebook's advertising revenues came in at $5.6 billion, which represents an increase of 56.8%, which accounts for 96.5% of total revenues for the company during the quarter. If we further break down those revenues by geography, then Europe and the US saw the majority of increase in revenues in 4Q15, compared to the same period the previous year. Revenues from Europe stood at $1.4 billion, compared to $960 million in 4Q14, which represents an increase of 44.9%.
Reading the ARPU
The company's worldwide ARPU (average revenue per user), came in at $3.73 in 4Q15, compared to $2.81 in 4Q14, which represents an increase by $0.92. The ARPU from the US and Canada region came in at $13.54 compared to $9.00 in 4Q14. However, the Asia-Pacific region saw the lowest growth of $0.32, which came in at $1.59 in 4Q15, compared to $1.27 in 4Q14. The APAC region showed signs of decline growth due to currency headwinds.
The PowerShares NASDAQ Internet Portfolio (PNQI) is a portfolio of 94 stocks, out of which the top four stocks Amazon.com (AMZN), Alphabet (GOOG), Facebook (FB), and Netflix (NFLX) constitute 9.1%, 8.7%, 8.3%, and 7.5%, respectively.
Now let's see how Facebook did on the operations front in 4Q15.