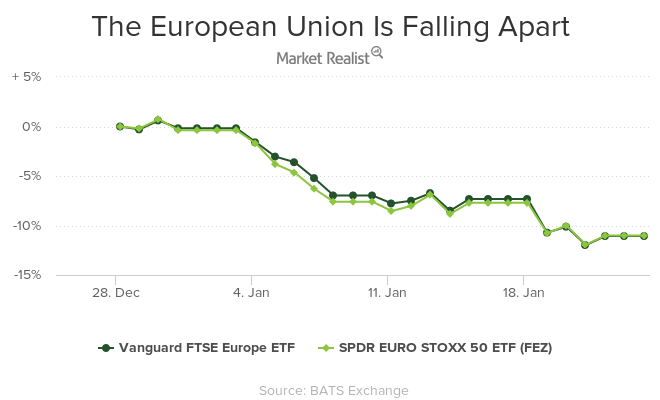 The European Union Is Falling Apart: George Soros
By Surbhi Jain

Nov. 20 2020, Updated 3:28 p.m. ET
The European Union
Back in September 2011, George Soros had warned the markets about the Greek crisis being of a statute "more serious than the crisis of 2008." Soros remarked, "the European Union is falling apart" when he was interviewed by Bloomberg TV on January 22, 2016. Soros also sees an impending collapse in Russia and an occurring collapse in Europe (FEZ) (HEDJ (VGK) (DBEU). Europe and Russia seem to have gotten into a race as to who collapses earlier. To Soros, for now, it looks like Europe is winning that race.
[marketrealist-chart id=993967]
Article continues below advertisement
What's leading Europe into a crisis?
There are two points to consider when thinking about the European Union's (or EU) current state of crisis:
The Greek crisis: The Greece (GREK) issue is at its boiling point now. However, It remains small in the larger scheme of things affecting the European Union.
The migration crisis: The large influx of refugees seeking asylum in EU nations is a major issue. Europe has reached its tipping point where the influx of refugees can be accepted and integrated. This is a very serious problem and has the potential to pose a larger threat to the economy than the markets expect. More on this as we move ahead in this series.
When will the ECB act?
The markets misunderstood the ECB's (European Central Bank) decision at its last meeting. We saw Europe's major indexes fall sharply after the ECB's statement as the ECB failed to provide more quantitative stimulus to the markets. This was despite the fact that the ECB did:
lower the interest rate on the deposit facility by ten basis points (effective December 9, 2015)
extend its existing asset purchase program until the end of March 2017
Soros believes that the ECB didn't announce more stimulus at its December meet as:
it wanted to act unanimously, that is, with the Germany (EWG) by its side, when it made such a decision
it wanted to confirm the situation of deflation before acting on it
Now that the ECB has German support, Soros predicts that the ECB will act unanimously in March. Mario Draghi now has the evidence of the slowdown and the support of the Bundesbank.