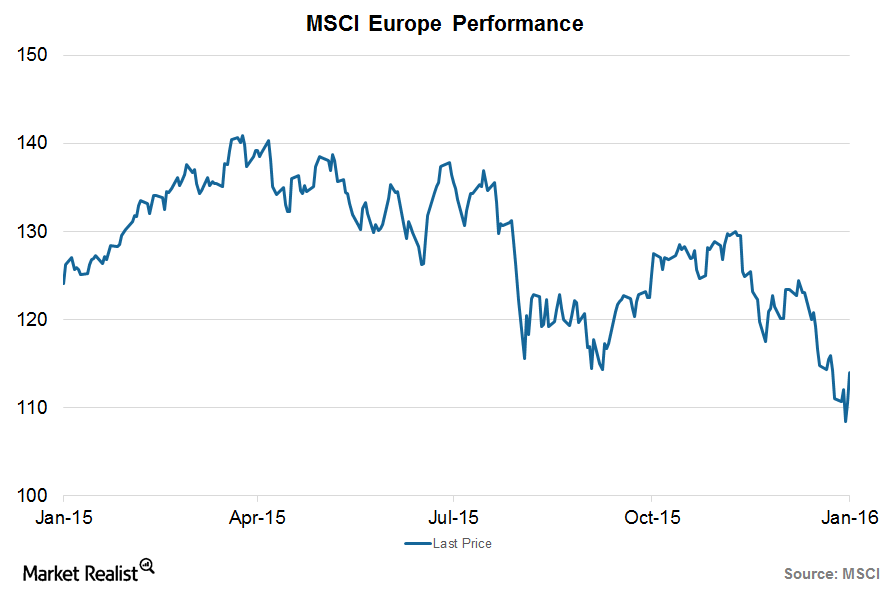 European Equities Rise on Expectation of Further Stimulus
European equities
The MSCI Europe Index rose by 2.7% in the week ended January 22, 2016. The German markets rose by 2.3%, whereas London's FTSE 100 and France's CAC 40 rose by 1.7% and 3.0%, respectively.
European equities rose as the European Central Bank's (or ECB) president Mario Draghi hinted at further stimulus for the European economy amid falling commodities and a slowing global economy.
The ECB kept interest rates unchanged at its most recent meeting. However, equity markets and oil rebounded and the euro fell after Draghi hinted that additional monetary easing is likely to come at the March meeting of the ECB Governing Council. The ECB has shown this intent in the wake of higher downside risks as emerging markets continue to drag and US economic growth slows.
European Union equities (EFA) have performed in-line with other major markets in 2016. On a year-to-date basis, Germany's DAX has fallen by 9.1%, France's CAC 40 has fallen by 6.5%, and the United Kingdom's FTSE has fallen by 5.5%.
Article continues below advertisement
Impact on asset managers
The ECB has kept a target inflation rate of 2% in order to revive growth in the region. However, inflation for December stood at a low of 0.2%, reflecting continued weakness in the markets.
The competitive quantitative easing between Japan, China, and the Eurozone represents an effort to fuel growth through exports. These exports primarily target North America.
Markets expected increased bond-buying sanctions from the ECB due to a fall in gross domestic product growth to 0.3% in 3Q15 compared to 1.5% in 1H15.
Globally, fourth-quarter results are expected to be better in comparison to the previous quarter. Strong earnings in the last quarter of 2015 could provide some support to the equities.
Stock market performance is one of the key drivers for asset managers' revenues. Major asset managers in the Eurozone include Goldman Sachs (GS), BlackRock (BLK), Morgan Stanley (MS), Deutsche Bank (DB), and UBS (UBS).