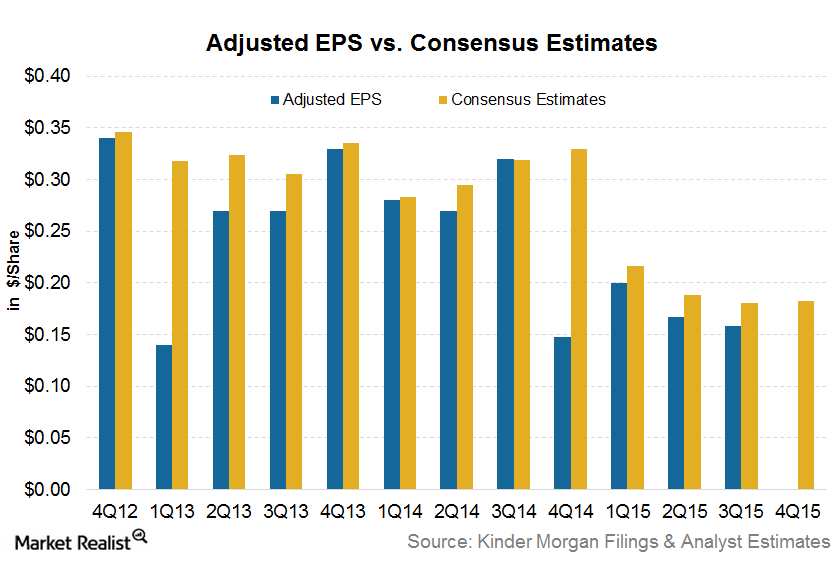 Energy Prices and Weather Could Hurt Kinder Morgan's 4Q15 Results
By Kurt Gallon

Jan. 15 2016, Updated 3:51 p.m. ET
Kinder Morgan's 4Q15 earnings estimates
Kinder Morgan (KMI) is expected to release its 4Q15 earnings sometime in the next week. In this series, we'll talk about KMI's 4Q estimates, how each of its segments might contribute to earnings, market performance, and analyst recommendations for the midstream giant. We'll start with analysts' earnings estimates.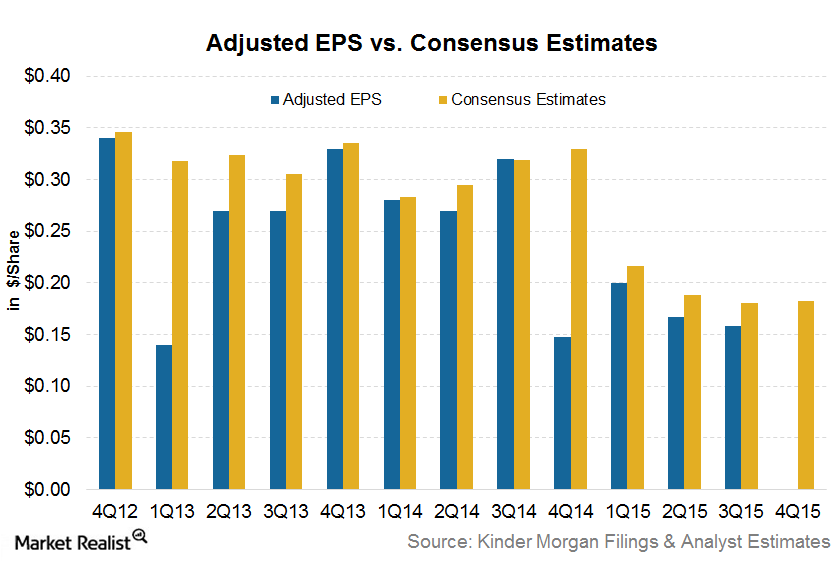 Wall Street analysts' 4Q15 consensus EPS (earnings per share) estimate for KMI is ~$0.183. This is more or less similar to estimates of ~$0.181 in the previous quarter. However, KMI's 4Q15 estimate is 24.3% more than the 4Q14 adjusted earnings. As the above graph shows, the company's 4Q14 EPS was exceptionally low.
According to Wall Street estimates, KMI peers Williams Partners (WPZ), EnLink Midstream Partners (ENLK), and DCP Midstream Partners (DPM) are expected to post a year-over-year earnings growth of -5.6%, -49.5%, and 48.6%, respectively, in 4Q15 versus 4Q14.
Article continues below advertisement
Kinder Morgan's 4Q15 earnings drivers
KMI's 4Q15 EPS estimate is one of the lowest compared to estimates for the last 12 quarters. KMI's 4Q15 earnings are expected to be impacted by the following factors:
KMI's CO2-based enhanced crude oil recovery and natural gas midstream businesses are exposed to commodity prices. Since energy commodity prices worsened in the last quarter of 2015, KMI's 4Q15 earnings might be negatively impacted. Average crude oil prices by the end of the fourth quarter of 2015 were ~$42.2 a barrel as compared to ~$46.5 a barrel during the third quarter. Average natural gas prices came down to $2.24 per MMbtu (million British thermal units) from $2.74 per MMbtu during the same period.
Lower-than-expected natural gas demand in the beginning of the winter season could hurt 4Q15 earnings.
A considerable amount of KMI's earnings goes towards interest expense due to its huge outstanding debt.
Kinder Morgan's adjusted earnings versus consensus estimates
The 3Q15 EPS estimate for KMI was ~$0.18 while the adjusted EPS was ~$0.158, a ~12.7% miss. We'll discuss its 4Q15 earnings in our post-earnings series after KMI reports its results. KMI constitutes 0.26% of the iShares Russell 1000 Value ETF (IWD).