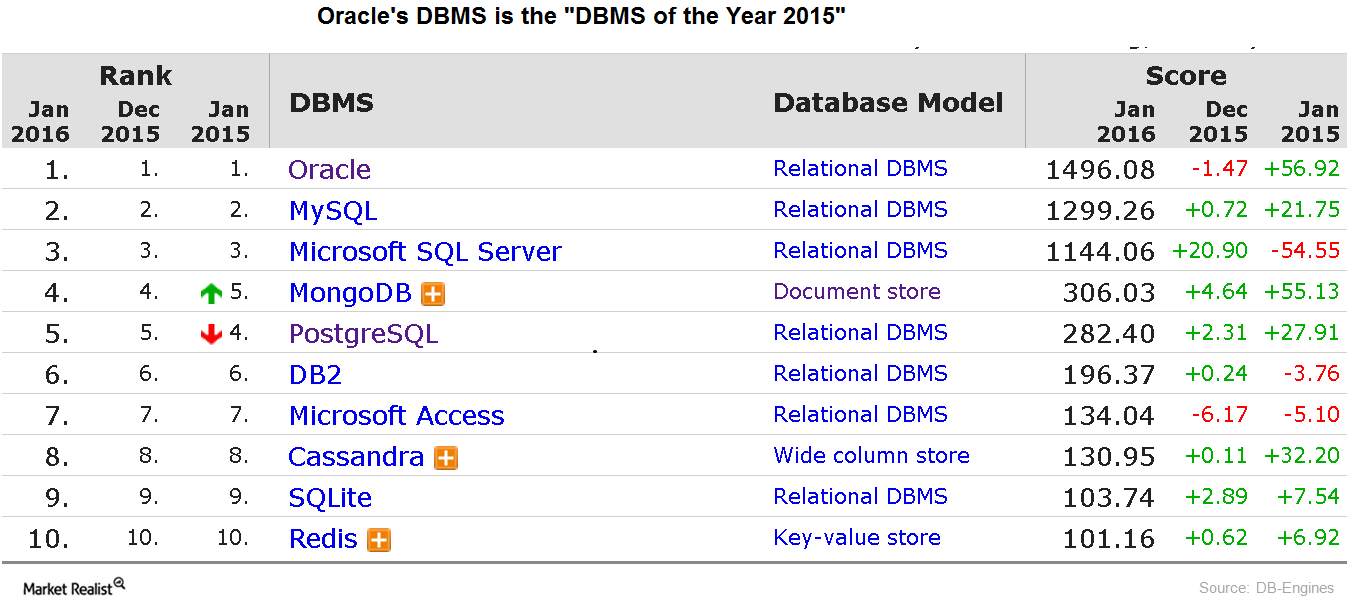 Despite the Open-Source Threat, Oracle Leads the Database Space
By Anne Shields

Aug. 21 2020, Updated 8:42 a.m. ET
Oracle reigned database space in 2015
So far in this series, we've discussed Oracle's diverse strategies, partnerships, and acquisitions to push its growth in today's dynamically changing IT (information technology) environment. Though the company was slow to catch up with the cloud revolution, it commands the database space. According to a DB-Engines January 2016 report, "Oracle is the clear leader in the DB-Engines Ranking since we started more than three years ago." The report further stated that "its ranking score saw some ups and downs in that period, but 2015 was an exceptionally good year for Oracle, gaining 56.9 scoring points." DB-Engines tracks the popularity of database technologies.
Article continues below advertisement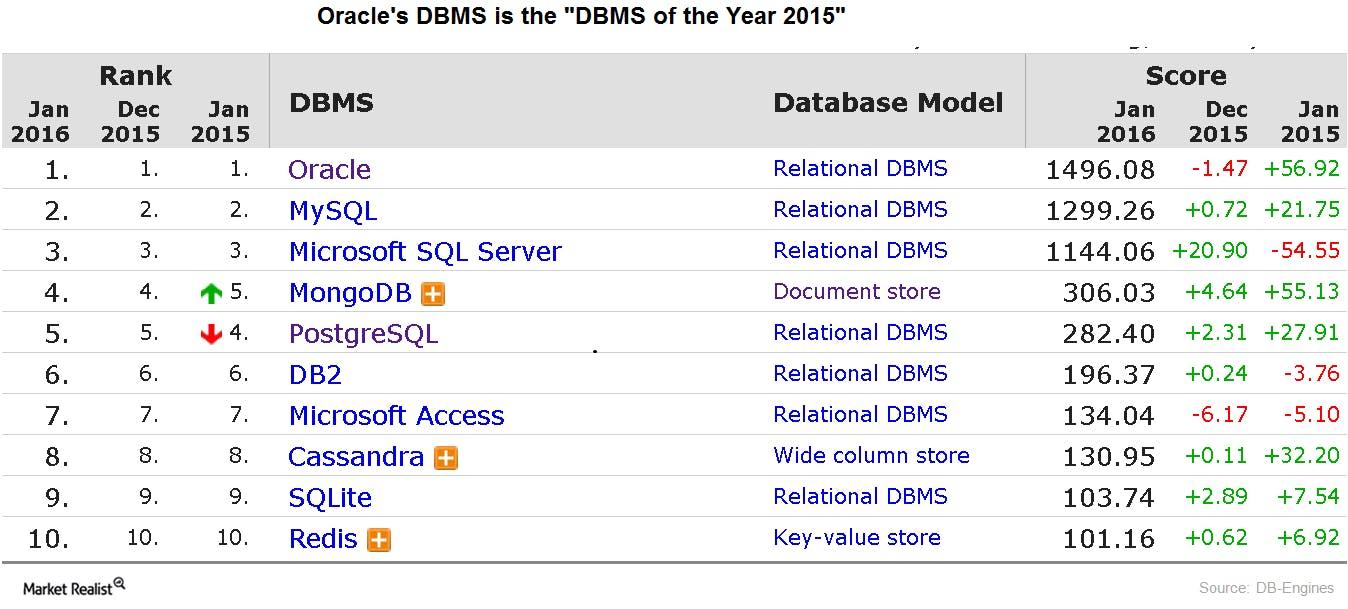 Top five vendors command revenue of database space
As the current IT environment is being engulfed by the SMAC (social, mobile, analytics, and cloud) revolution, rapidly generated data is finding its way toward open-source databases. As a result, open-source software such as Apache Cassandra, MongoDB, and Redis are dominating the global database technology space, as the above chart shows.
However, according to Gartner analyst Merv Adrian, "92.1 percent of DBMS revenue comes from top 5 vendors." Oracle, IBM (IBM) DB2, and Microsoft (MSFT) SQL Server are the leading players in the  database space, all with proprietary products. SAP (SAP) and Teradata follow in the database space. It's apparent that although open-source databases are rapidly catching up with traditional databases, they still have a long way to go.
Oracle itself is showing interest in the open-source space. In December 2015, Oracle acquired StackEngine, a container-oriented startup that develops management and automation tools for Docker containers. Docker is an open-source container software project.
Investors who wish to gain exposure to Oracle can consider investing in the SPDR S&P 500 ETF (SPY). SPY has an exposure of ~9% to application software and invests ~0.7% of its holdings in Oracle.