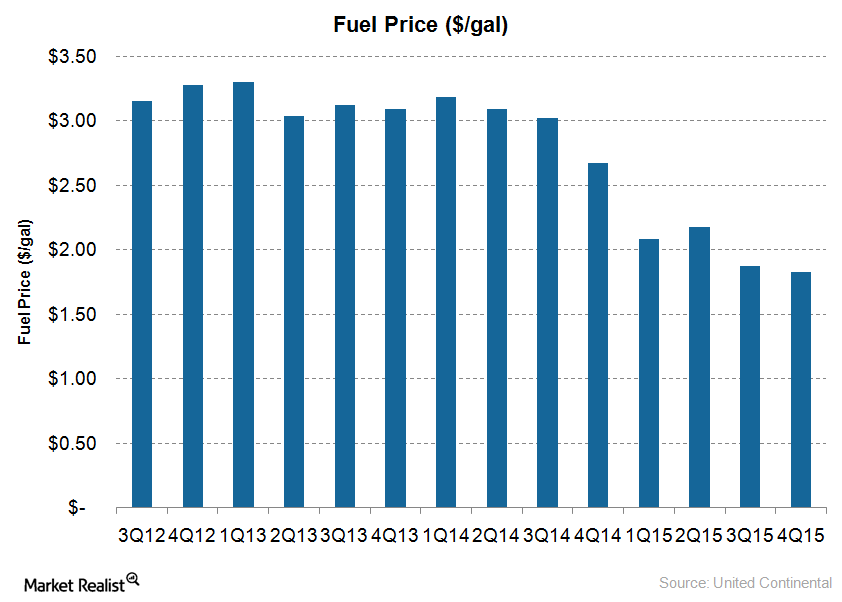 Declining Crude Oil: A Double-Edged Sword for United Continental
Snapshot
The drop in oil prices has benefited the whole airline industry, with most airlines generating strong cash flows boosted by significant savings in fuel costs. United Continental saw $912 million in 4Q15 savings as its fuel bill fell by 36% compared to a year ago. It is, however, still higher than peers Delta Air Lines (DAL), Alaska Air Group (ALK), and American Airlines (AAL).
Article continues below advertisement
Falling crude oil prices
For United Continental, the drop in oil prices comes as a double-edged sword. One hand, the airline realized massive savings due to lower oil prices. On the other hand, this acted as incremental pressure to its primary hub of Houston, Texas, which resulted in declining corporate energy business.
Houston's George Bush Intercontinental Airport is one of United Airlines' largest hubs. The oil price decline has hampered Houston's energy sector, resulting in lower bookings in and out of Houston for UAL.
What to expect
On the upside, the low oil price environment has helped United Airlines to get closer to its goal of achieving $1 billion in annual non-fuel savings by 2017. The airline now expects to reach this goal in 2016. The airline expects to see ~$225 million in hedge losses as the airline is 17% hedged for 2016. UAL has not added any new hedges since July 2015 and is now expected to participate in 98% of any future declines.
The airline's fuel costs are expected to decline to $1.25–$1.30 in 2016 from $1.82 in 2015. This huge savings in fuel could help boost margins in 2016 too.
The Houston energy business is expected to continue to see weakness which could also spread to the broader non-energy market. The combined revenue pressure from both these energy contracts in the Houston hub is anticipated to be approximately 1 point.
United Continental (UAL) forms ~5% of the Dynamic Leisure & Entertainment Portfolio ETF (PEJ).