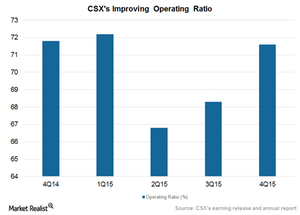 CSX's Increased Operating Efficiency Leads to Improved Margins
Declining expenses
In its January 12, 2016, earnings release for 4Q15, CSX Corporation (CSX) reported a 13% decline in total revenues. However, the company's operating expense declined by 13%, or $301 million, from 4Q14. The decline was mainly due to lower labor, fuel, materials, and other expenses. CSX's operating ratio was lower compared to 4Q14 but was marginally up compared to 3Q15.
Article continues below advertisement
Fuel charges
Fuel charges for CSX decreased by $160 million in 4Q15 compared to 4Q14, mainly due to a 39% reduction in locomotive fuel prices and $117 million in reduced expenses. Volume-related costs declined by $40 million. However, an unfavorable traffic mix led to $7 million in efficiencies. Other fuel savings of $10 million were primarily due to lower non-locomotive fuel costs.
Materials and supplies
CSX's materials and supplies expenses declined by $54 million, mainly due to efficiency savings of $20 million. These savings were driven by a reduction in professional fees as well as lower operating support costs.
Volume-related costs declined by $29 million. The decline was partially offset by inflation, which resulted in $13 million of additional costs.
Labor and fringe
Labor and fringe expense decreased by $110 million, mainly due to lower incentive compensation. Inflation resulted in $28 million of additional costs, driven by wages and partially offset by reduced health and welfare costs. Incentive compensation declined by $53 million due to lower award payouts on existing plans. Volume-related costs and efficiency resulted in $48 million in savings. CSX's interest expense, equipment, and other rents expense also declined in the fourth quarter.
CSX's total debt-to-EBITD (earnings before interest, taxes, and depreciation) ratio is 2x, which fares well when compared to its peers.
Together, these companies form 14.9% of the VanEck Vectors Morningstar Wide Moat ETF (MOAT).