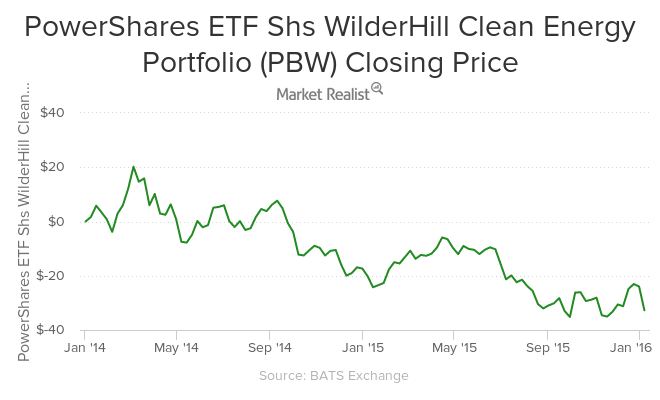 Crude Oil Exporters in the Face of Renewable Energy in 2016
By Rabindra Samanta

Jan. 13 2016, Published 1:48 p.m. ET
Renewable energy may pose stiff competition for crude oil
The Paris climate talks and agreements in December 2015 saw the participation of a wide range of nations, and US top leaders begun voicing more loudly the need for more renewable energy initiatives to counter the scientifically verified effects of global warming.
From an investment point of view—all arguments against the extent and causes of global warming aside—investors might consider that sooner or later, a shift will likely take place from non-renewable to renewable energy sources that offer sustainable growth potential for businesses and societies. For example, the first fuel cell cars are already on the market, and road transportation, aviation, and domestic heating account for a significant portion of crude oil demand.
Article continues below advertisement
Meanwhile, if solar panels can be utilized to generate power and store it in lithium cells, the trend will likely reduce worldwide dependence on crude oil. Sunshine is abundantly available in China (FXI), India (INDY), and the US, but while India and China represent more than 28% of the world's population, the US remains the biggest consumer of crude oil. OPEC's (Organization of the Petroleum Exporting Companies) most recent outlook, released in December 2015, outlines the likely growth of renewable energy in future.
[marketrealist-chart id=962819]
What the growth in renewable energy sources could mean for Saudi Arabia
As an oil-dependent economy, Saudi Arabia cannot keep high reserves in the future, because the demand for oil is likely to fall. Moreover, the kingdom will likely have to try to diversify its economy before rising trends in renewable energy can impact its largest source of revenue. A stake sale in Aramco is one of the many initiatives that Saudi Arabia is planning to use in order to reduce the likely impact of the fall in demand of crude oil prices. We should note here that Saudi Arabia also has the world's largest proved reserves of crude oil.
FuelCell Energy (FCEL), Plug Power (PLUG), and EnerSys (ENS) are a few US-based companies that manufacture and operate fuel cells. SolarCity Corporation (SCTY) deals specifically with solar energy, while ETFs like the Guggenheim Solar ETF (TAN), the PowerShares WilderHill Clean Energy ETF (PBW), and the VanEck Vectors Global Alternate Energy ETF (GEX) all invest in renewable energy. The graph above shows the performance of the PowerShares WilderHill Clean Energy ETF since mid-2014.
In the next part of this series, we'll discuss the most up-to-date moving averages of large-cap upstream companies.