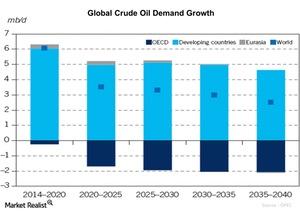 Crude Oil Demand Growth Shrinks in the Long Term
By Manu Milan

Jan. 4 2016, Updated 10:28 a.m. ET
Crude oil demand growth
In its World Oil Outlook, OPEC (Organization of the Petroleum Exporting Countries) estimated that global crude oil demand will grow by 6.1 MMbpd (million barrels per day) between 2014 and 2020. This represents crude oil demand to grow from 91.3 MMbpd in 2014 to 97.4 MMbpd in 2020.
OPEC also estimated that crude oil demand will decline to 3.5 MMbpd for the period 2020–2025 and 3.3 MMbpd for 2025–2030. It also expects crude oil demand growth to decrease further to 3 MMbpd for 2030–2035 and 2.5 MMbpd for 2035–2040.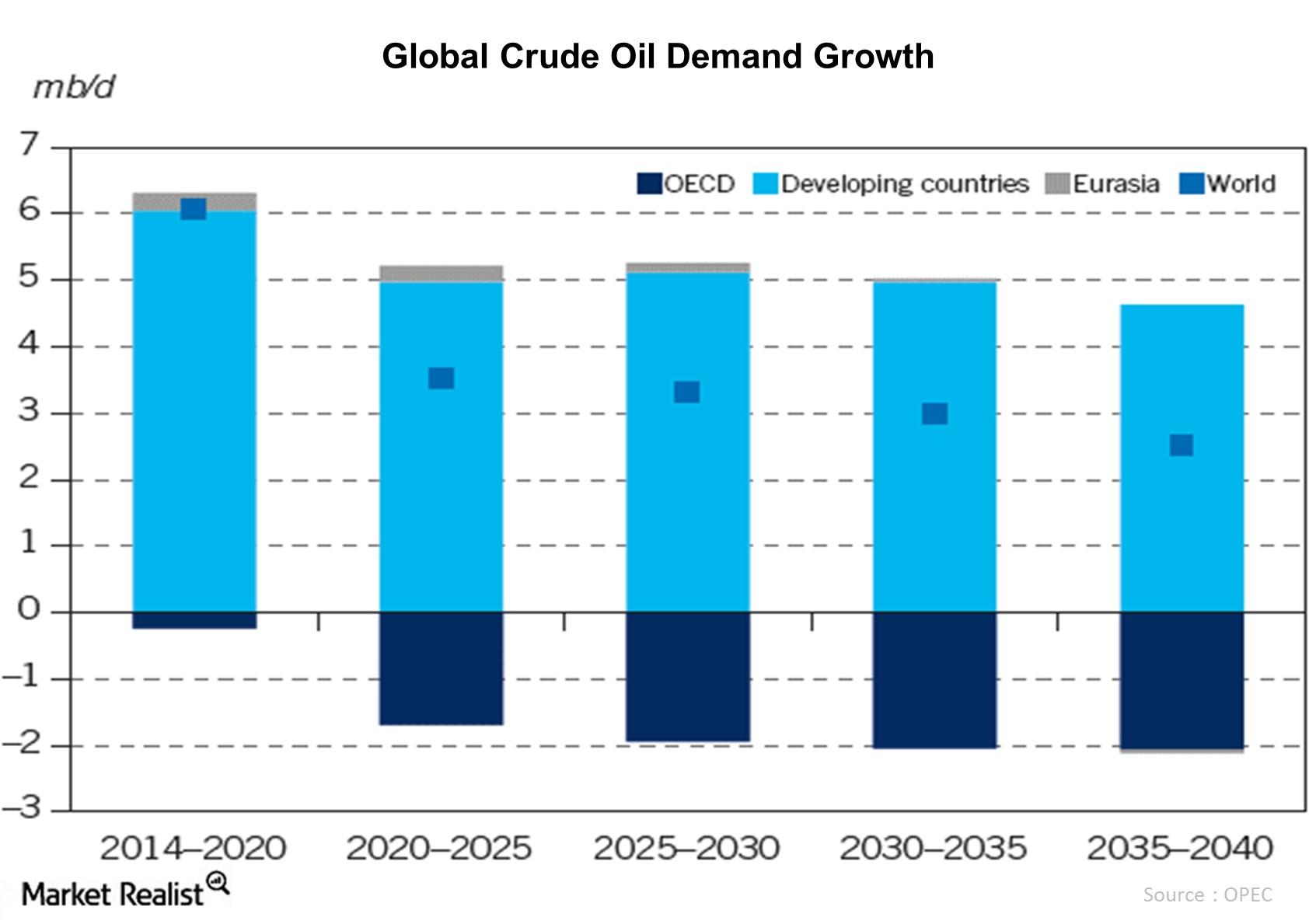 Article continues below advertisement
Why will crude oil demand decline after 2020?
According to OPEC forecasts, on a yearly basis, global crude oil demand growth will gradually decline by 1 MMbpd on average from 2014–2035 to around 0.5 MMbpd each year from 2035–2040.
The decline in demand for crude oil is due to lower economic growth. According to OPEC estimates, the world's GDP (gross domestic product) growth will decline from 3.6 in 2014–2020 to 3.3 in 2030–2040. China and India account for more than half of the GDP growth rate. China is concentrating more on developing its shale gas resources, which will certainly pull back crude oil demand in China and result in a lower growth rate of crude oil demand.
Other things that will pull back the crude oil demand growth rate in the long term are the following:
decline in population growth rates
further energy efficiency improvements
dependence on renewable sources of energy
The impact
The rise in crude oil demand by 6.1 MMbpd from 2014–2020 will boost crude oil prices. But a declilning demand in the long term will also affect crude oil prices. The rise in crude oil prices (USO) will boost revenues of crude oil producers such as ConocoPhillips (COP), Oasis Petroleum (OAS), Chevron (CVX), Apache (APA), and Hess (HES).