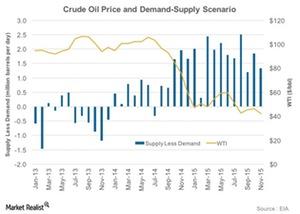 Crashing Crude Oil Prices: No Light at The End of the Tunnel
By Maitali Ramkumar

Jan. 8 2016, Updated 1:20 p.m. ET
Plunging crude oil prices
Crude oil prices have been falling since mid-2014. But in the past few days, prices have nosedived to new multi-year lows. WTI (West Texas Intermediate) futures prices closed at $33.9 per barrel on January 6, 2016, plunging from $37 per barrel on December 31, 2015. Brent futures prices closed at $34.3 per barrel on January 6, 2014. The intriguing question here is: What led to such a crash in oil prices? The answer is a series of events occurring together.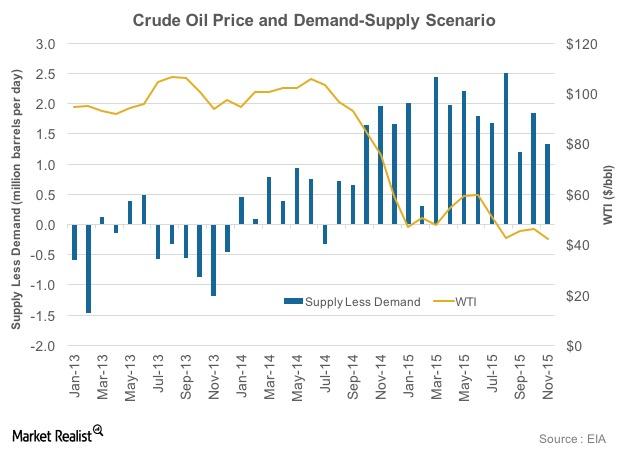 This included no respite from higher OPEC[1. Organization of the Petroleum Exporting Countries] output, weaker growth numbers from China, and the buildup of total petroleum stocks in the United States. The last nail in the coffin was a lowering of global growth estimates by the World Bank.
What do all these events mean? They point toward a global supply glut of crude oil. As per the EIA (U.S. Energy Information Administration), in November 2015, supply exceeded demand by 1.3 MMbpd (million barrels per day).
Article continues below advertisement
Global oil supply surplus
The excess supply is expected to stay in 2016, mainly led by OPEC. Dissension between Saudi Arabia and Iran on cutting supplies is expected to push up global supplies of oil further. OPEC's output (crude oil plus liquids) is estimated to rise to 38.5 MMbpd in November 2016 from 37.9 MMbpd in November 2015. Also, the global supply is expected to rise to 96.5 MMbpd in November 2016. This is despite the fact that supply from the United States, Mexico, and the North Sea is expected to fall.
Global oil demand is weak
On the other side, slow growth in demand is unable to cover up the demand and supply gap. According to the World Bank, the global economy is expected to grow by 2.9% compared to an estimated growth of 3.3% in June 2015, led by the contraction in the Brazilian and Russian economies. Plus, the slower Chinese growth is pressurizing oil demand further. The Caixin-Markit PMI (purchasing managers' index) for Chinese non-manufacturing activity fell to 50.2 in December 2015, indicating a slowdown in the services sector in the country.
A lower oil price is likely to impact the Energy Select Sector SPDR (XLE). The ETF has mixed exposure to integrated energy players like ExxonMobil (XOM) and Chevron (CVX), as well as to upstream companies like ConocoPhillips (COP) and EOG Resources (EOG), not to mention downstream firms like Marathon Petroleum (MPC) and Valero Energy (VLO).