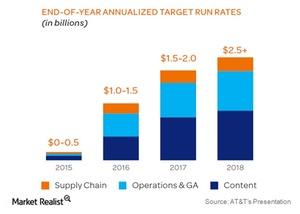 Cost and Revenue Synergies for AT&T from the DIRECTV Transaction
DIRECTV transaction and cost synergies
In the previous part of this series, we learned about the AT&T (T) DIRECTV (DTV) merger in July 2015. We also learned about the significant subscriber base in the US (SPY) pay-TV space the DIRECTV transaction brought to AT&T. According to the telecom company, the acquisition is expected to provide significant cost synergies to the merged entity.
According to AT&T, the DIRECTV merger is expected to help bring down costs associated with operations and general administration, supply chain, and content acquisition. A larger pay-TV base should give AT&T more bargaining power with media networks in terms of negotiations for content costs with these networks.
Article continues below advertisement
As we can see in the chart above, and according to the company, the merger cost synergies from the 2015 DIRECTV transaction was expected to be $0.5 billion or lower. Additionally, this figure was expected to be between $1 billion–$1.5 billion in 2016 and $1.5 billion–$2 billion in 2017. The telecom company also anticipated that these annual cost synergies would be greater than $2.5 billion from 2018.
Solid cross-selling opportunities from DIRECTV transaction
The DIRECTV transaction also brought solid cross-selling opportunities for AT&T. The telecom company expected a significant cross-selling opportunity to ~39 million households of this combined entity as of August 12, 2015.
According to AT&T, this cross-selling potential for the Internet to households with DIRECTV was ~3 million, and it was ~15 million for wireless services to the DIRECTV households. AT&T noted that the cross-selling opportunity for video services to AT&T's wireless customers was in ~21 million households.
You may consider the iShares Core S&P 500 ETF (IVV) for a diversified exposure to select telecom companies in the US. IVV held a total of ~2.3% in AT&T (T), Verizon (VZ), CenturyLink (CTL), Frontier Communications (FTR), and Level 3 Communications (LVLT) at the end of November 2015.