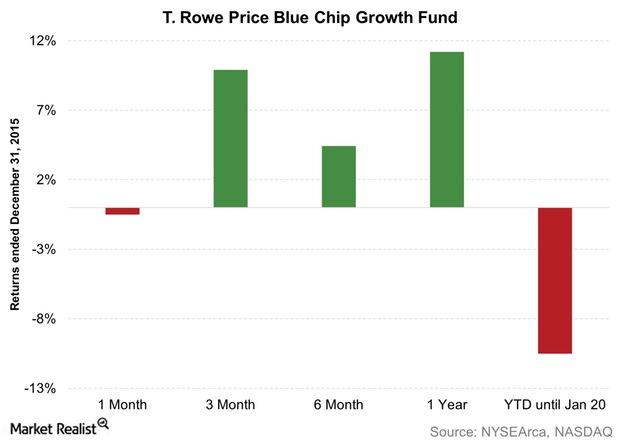 Which Core Picks Proved Fruitful for TRBCX in 2015?
By David Ashworth

Jan. 21 2016, Updated 7:23 p.m. ET
Performance evaluation
The T. Rowe Price Blue Chip Growth Fund (TRBCX) fell 0.5% in December 2015 from a month ago. In the three-month and six-month periods ended December 31, the fund has risen 9.9% and 4.4%, respectively. In the one-year period, the fund has posted double-digit returns of 11.2%. Meanwhile, from the end of December until January 20, the fund is down 10.5%.
Among the 11 funds, TRBCX was the best performer for 2015. Let's look at what contributed to the fund's terrific performance.
Article continues below advertisement
Portfolio composition and contribution to returns
The TRBCX has witnessed several market cycles since its launch in June 1993. The latest complete portfolio declaration from the fund is from September 2015. Thus, we will take that portfolio as our base and consider valuation changes as they stand at the end of December 2015 for our analysis. All portfolio percentages mentioned from here on refer to their weights as per changes in valuation from September to December.
The consumer discretionary sector was the biggest positive contributor to the fund's returns in 2015. Amazon (AMZN) was the star performer from the sector. Netflix (NFLX) and Starbucks (SBUX) were also among the major contributors. Negative contributions from Wynn Resorts (WYNN) and Chipotle Mexican Grill (CMG), among others, were a bit of a dampener, but not overly worrisome.
The information technology sector was also a major positive contributor to the fund's returns. Contributions from Class C and Class A shares of Alphabet (GOOG), Facebook (FB), and Visa (V) were pivotal to the sector's strong showing. Baidu (BIDU) and Alibaba (BABA), on the other hand, emerged as major negative contributors but did not have strength in numbers to cause major worry.
The consumer staples sector was a problem area of the fund. Monster Beverage (MNST) dragged the sector's contribution into negative territory.
Reasons for dominant performance
With half of the portfolio doing exceedingly well, save for a few detractors, the fund had built a strong foundation for a great 2015. Except for MNST and financials, most stock picks worked in the fund's favor in 2015. Drag from detractors was not very significant, and the positive contributions were big enough to ensure the fund's strong performance. Coming out on top among its 11 peers was a cherry on the cake.
In the next article, we'll take a look at the Vanguard Growth Index Fund – Investor Shares (VIGRX).