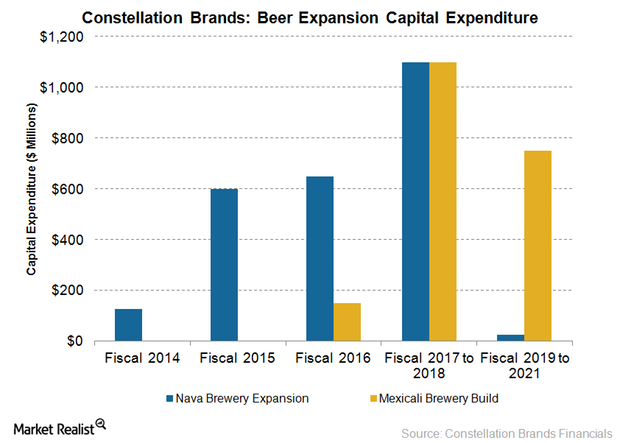 Constellation Brands Plans to Ramp Beer Production
By Sirisha Bhogaraju

Jan. 26 2016, Updated 7:15 a.m. ET
New production facility
On January 7, 2016, Constellation Brands (STZ) announced its plans to build a new brewery in Mexicali, Mexico. The brewery will initially be built to operate at ten million hectoliters of production capacity and will be later expanded to a capacity of 20 million hectoliters. The company stated that the first five million hectoliters of capacity are scheduled to be completed by the end of 2019.
The new brewery in Mexicali is located near the state of California in the United States. California is Constellation Brands' largest beer market and a high-growth region for the company. The capital expenditure associated with the new brewery is expected to be $1.5 billion. An additional expenditure of $500 million is also estimated to be incurred in connection with the investments required to increase the scalability of the brewery to 20 million hectoliters.
Article continues below advertisement
Nava brewery expansion
Aside from investments in the new brewery in Mexicali, Constellation Brands also announced its decision to further expand the Nava brewery capacity by 2.5 million hectoliters, increasing it from 25.0 million to 27.5 million hectoliters. The expansion is expected to be completed by early 2018, and would cost ~$250 million. Currently, Constellation Brands is aiming to expand the Nava brewery's capacity from ten million to 20 million hectoliters by June 2016 and from 20 million to 25 million hectoliters by the summer of 2017. The company currently has 15 million hectoliters of functioning brewing capacity at the Nava brewery. The iShares US Consumer Goods ETF (IYK) has 1.3% exposure to Constellation Brands.
Overall, Constellation Brands' capital expenditure associated with the Nava brewery is expected to be $2.5 billion over the period from fiscal 2014 to fiscal 2021.
Gearing up for intense competition
Constellation Brands is ramping up its beer production capacity in response to the rising demand for its Mexican beer brands. The company's beer brands such as Modelo Especial and Corona Extra are quite popular with American consumers, especially the Hispanic demographic.
The pending acquisition of SABMiller (SBMRY) (SAB.L) by Anheuser-Busch InBev (BUD) could further strengthen the latter's leadership in the beer market. Molson Coors (TAP) has announced its decision to acquire the remaining 58% stake in MillerCoors from SABMiller. MillerCoors is the second largest beer manufacturer in the US market, trailing Anheuser-Busch. Constellation Brands is the third largest beer maker in the United States and is benefiting from the growing demand for imported beer rather than domestic lagers like Budweiser.