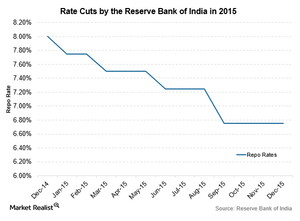 Considerable Depreciation in the Rupee Seen after August 2015
By David Meyer

Jan. 20 2016, Updated 7:10 a.m. ET
An overview of the rupee in 2015
The Indian rupee was trading on a relatively stable note in the first half of 2015. However, due to global concerns and efforts to increase competitiveness among other emerging market currencies, a considerable depreciation in the rupee occurred after August. The RBI (Reserve Bank of India) has cut interest rates by a total of 125 basis points in 2015 to bring the policy rate down to 6.8%. Inflation levels have been slowly rising upward.
However, the levels are comfortably below the 6% target set by the RBI. Low crude and commodity prices globally are also expected to help maintain inflation levels within desired limits.
Article continues below advertisement
RBI expected to keep policy stable in the near term
Going forward into 2016, the RBI is expected to keep interest rates stable in light of the outflow of foreign investments as the US Federal Reserve begins a liftoff in interest rates. The central bank has been regularly intervening in the foreign exchange market to prevent sudden bouts of depreciation in the rupee. The RBI currently holds foreign exchange reserves to the tune of $349 billion to safeguard against sudden depreciation in the rupee and maintain stability.
Impact on the market
Looking at the exchange traded funds affecting India, the iShares MSCI India ETF (INDA) and the iShares MSCI Emerging Markets ETF (EEM) have taken a fall since the beginning of the year.
On the other hand, Indian ADRs (American depositary receipts) have also been on a falling trend. The two banking ADRs HDFC Bank Limited (HDB) and ICICI Bank Limited (IBN) fell in 2016 owing to the negative sentiment leading to capital outflows. Tata Motors (TTM) also has been trading on a broadly negative note.