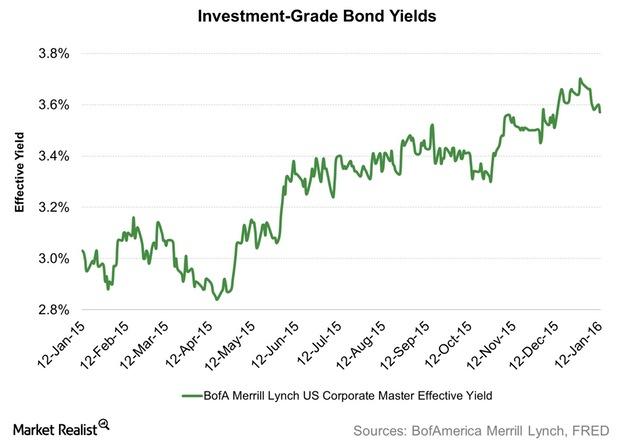 Should You Consider Investment-Grade Bond Mutual Funds in 2016?
What are investment-grade bonds?
Investment-grade bonds refer to all those fixed-income issuances that have ratings of "BBB" and above as provided by credit rating agency S&P (Standard & Poor's).
S&P uses modifiers "+" and "-" to "show relative standing within the major rating categories." An issue rated "AA+" has a higher standing than another which is rated "AA," which in turn has a better standing than an issue rated "AA-." The lowest-rated issue considered to be investment-grade by S&P is "BBB-."
Article continues below advertisement
The primary difference between Treasuries and investment-grade corporate bonds is that the former are virtually risk-free instruments, since they are issued by the US government and are not subject to ratings. Meanwhile, corporate bonds are subject to ratings and carry an element of risk of default based on the rating of the issue. Due to its very low possibility of default, a Treasury security of a certain maturity typically has lower yields than the highest-rated investment-grade corporate bond of the same maturity.
Should you consider investment-grade bonds in 2016?
Investors can consider investment-grade bonds in 2016, as high-yield bonds seem a risky bet for investors with moderate- and low-risk appetites. Investment-grade bonds are attractive, as they provide that bit of extra yield without compromising much on credit quality. If economic conditions improve as 2016 unfolds, investors can consider investing in bonds that are slightly lower on the rating scale without worrying too much about those bonds defaulting.
Investors can also take the mutual fund route while investing in investment-grade bonds, as these funds invest across the rating spectrum, given their investment strategy. Mutual funds such as the Oppenheimer Core Bond Fund Class A (OPIGX) and the American Funds Bond Fund of America Class A (ABNDX), among a host of others, provide exposure to investment-grade bonds.
From investment-grade bonds, let's move to their much riskier cousins, high-yield bonds, and see whether you should consider them for investment in 2016.