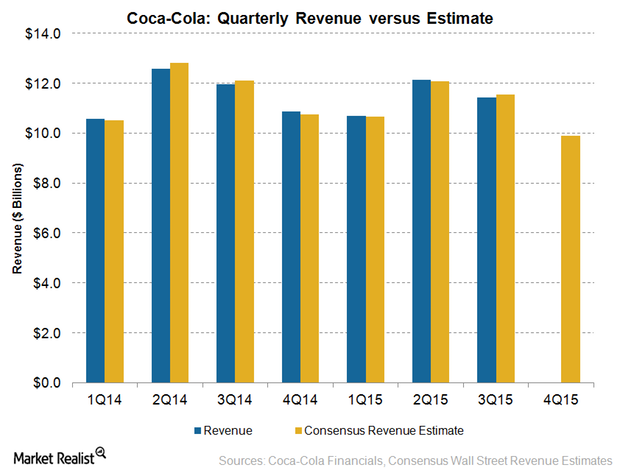 Why Coca-Cola's 4Q15 Revenue Could Fall
By Sirisha Bhogaraju

Jan. 29 2016, Updated 8:28 a.m. ET
4Q15 results
Beverage giant Coca-Cola (KO) is scheduled to report its results for the fourth quarter of fiscal 2015 on February 9, 2016. The company's fourth quarter ended on December 31, 2015. Coca-Cola's revenue missed analysts' estimate in the third quarter of fiscal 2015 as currency headwinds continued to impact the company, which operates in over 200 countries.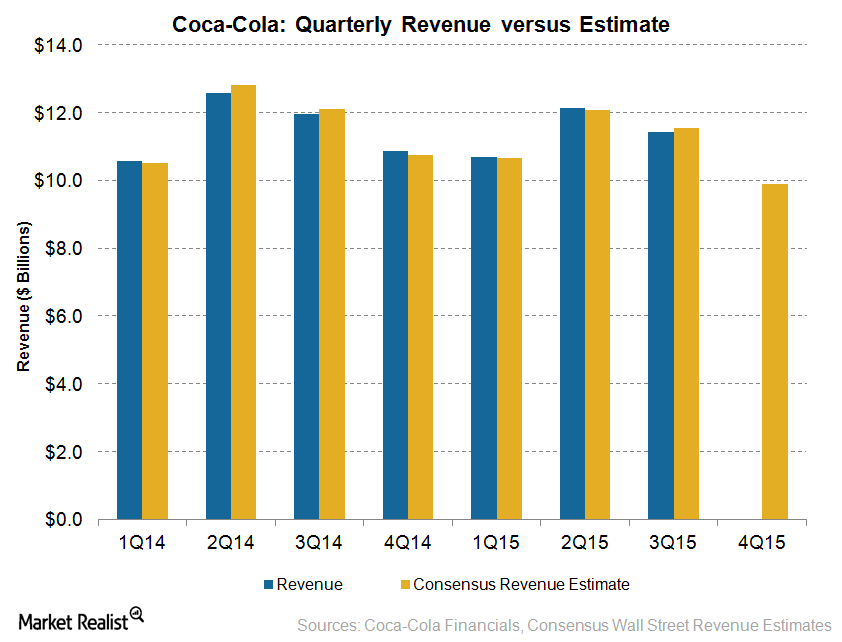 Article continues below advertisement
Currency headwinds
In 3Q15, Coca-Cola's revenue fell 4.6% to $11.4 billion, missing the consensus Wall Street analysts' estimate of $11.6 billion. The favorable impact of higher unit volume and increased pricing was offset by an 8% adverse impact of currency headwinds on 3Q15 revenue. In 3Q15, Coca-Cola's volume growth rose more for still beverages than sparkling beverages.
Coca-Cola's organic revenue in 3Q15 grew 3%, driven by the favorable impact of price and mix as well as slight growth in concentrate shipments. Coca-Cola constitutes 0.8% of the iShares Russell 3000 ETF (IWV).
PepsiCo's (PEP) 3Q15 revenue fell 5.2% due to a 12-percentage-point impact of currency headwinds. Dr Pepper Snapple Group (DPS) reported a 3% rise in its 3Q15 sales, driven by higher sales volumes, favorable product and package mix, and price increases. Monster Beverage (MNST) reported a 19% rise in its 3Q15 revenue, driven by strong demand for energy drinks.
Expectations from 4Q15
The consensus Wall Street analyst estimate for Coca-Cola's 4Q15 revenue is $9.9 billion, which indicates a 9% decline from the comparable quarter of the previous year. In an update from November 2015, Coca-Cola stated that it expects currency headwinds to have a 7 percentage point impact on 4Q15 net revenue. The company had previously estimated a 6 percentage point headwind from currency fluctuations on its 4Q15 revenue.
Overall, analysts expect Coca-Cola's fiscal 2015 revenue to fall 4% to $44.3 billion, primarily due to the impact of adverse currency movements.