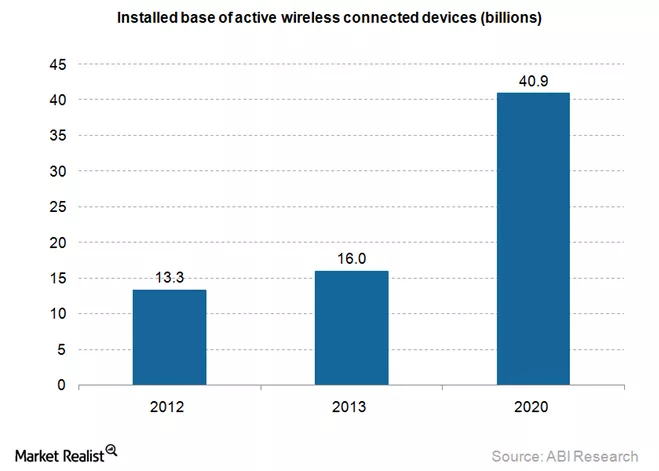 Cisco Partners with Philips to Sell 'Smart' Lights
By Adam Rogers

Jan. 7 2016, Updated 2:58 p.m. ET
Cisco is eager to expand in IoT domain
Cisco Systems (CSCO) is currently looking to increase market penetration in the IoT (Internet of Things) domain. In December 2015, it announced its partnership with Koninklijke Philips NV (PHG) to sell "smart" Internet-connected lights. Cisco previously partnered with a number of companies to broaden its reach in various markets. It has a partnership with VMWare (VMW) and EMC (EMC) to enhance its cloud computing offerings.
Article continues below advertisement
Cisco aims to strengthen its IoT portfolio, as it's already a heavyweight in the networking solutions space. The IoT segment offers huge potential for growth and is attracting investments from a large number of established companies. Cisco's partnership with Philips will help it capture market share, although it faces competition from General Electric (GE) and a number of startups.
IoT segment to grow exponentially
The Internet of Things is a sector in which all technology companies are looking to capitalize in the coming years. Cisco estimates that the IoT market will be valued at $19 trillion in the next ten years, including $1.7 trillion in service providers. Consulting firm McKinsey believes the IoT space will be valued at $6.2 trillion by the end of 2025.
According to ABI Research and as you can see in the above graph, the installed base of active wireless connected devices is expected to increase from 16 billion in 2014 to about 40 billion in 2020. By comparison, Gartner predicts that the installed base of smartphones, tablets, and PCs (personal computers) combined will reach only about 7 billion by 2020.
Although estimates vary greatly, there's no doubt that the IoT space will help increase company revenues in the next decade. Network infrastructure and semiconductor companies will be looking to take advantage of that.
Cisco constitutes 8.7% of the iShares North American Tech-Multimedia Networking ETF (IGN).