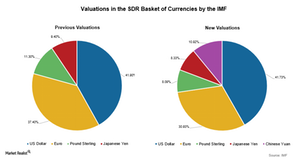 How the Chinese Yuan Is Being Devalued by the PBoC
By David Meyer

Jan. 27 2016, Updated 6:34 a.m. ET
Sharp fall in the yuan in 2016
The Chinese yuan has been falling against the US dollar since the beginning of the year. It fell due to risk aversion driving capital outflows out of emerging markets (EEM) and the fall in commodity and crude oil prices globally. The domestic equity markets saw traders scooping out their investments. This caused Chinese stock markets (YANG) to halt twice as the CSI 300 (WUBA) (BABA) (BIDU) fell by 7% intra-day.
Article continues below advertisement
PBoC lowers the reference rate
The PBoC (People's Bank of China) reduced the reference rate to the lowest level since 2011 in order to increase export competitiveness as global demand has been slowing down. The lowering of the reference rate by the PBoC is expected to lead to competitive devaluations in Asian currency peers. The devaluation of the yuan on August 11, 2015, saw a similar weakening of emerging market currencies. Investor sentiment melted and concerns increased about a slowdown in the world's manufacturing hub. The weakness in the yuan is expected to continue as global demand remains slow and commodity prices continue to be sluggish.
Inclusion of the yuan into the IMF's SDR basket
The inclusion of the yuan in the elite SDR (special drawing rights) basket of currencies by the International Monetary Fund gives the PBoC wider acceptance in foreign trade. It also generates investor confidence. At the same time, the yuan will be more prone to global economic sways. The central bank will have less flexibility in maintaining the exchange rate. Currently, the PBoC maintains a midpoint reference rate for the US dollar-Chinese yuan currency pair. Fluctuations are permitted up to 2% on either side.