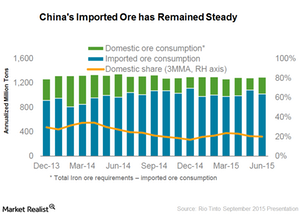 Does Chinese Domestic Iron Ore Capacity Have More Downside?
By Anuradha Garg

Jan. 20 2016, Updated 11:59 p.m. ET
Domestic iron ore capacity
As the supply and demand imbalance is the factor to blame for the current woes of the iron ore industry, any significant exits from the market would be a welcome move for the iron ore miners. In this context, it is important to look at the domestic Chinese iron ore supply.
China's (FXI) iron ore is of lower quality, containing iron ore content of ~20%–30%, compared with more than 57% for the global iron ore majors. This is the major reason most of the domestic Chinese capacity is in the fourth quartile of the global iron ore cost curve.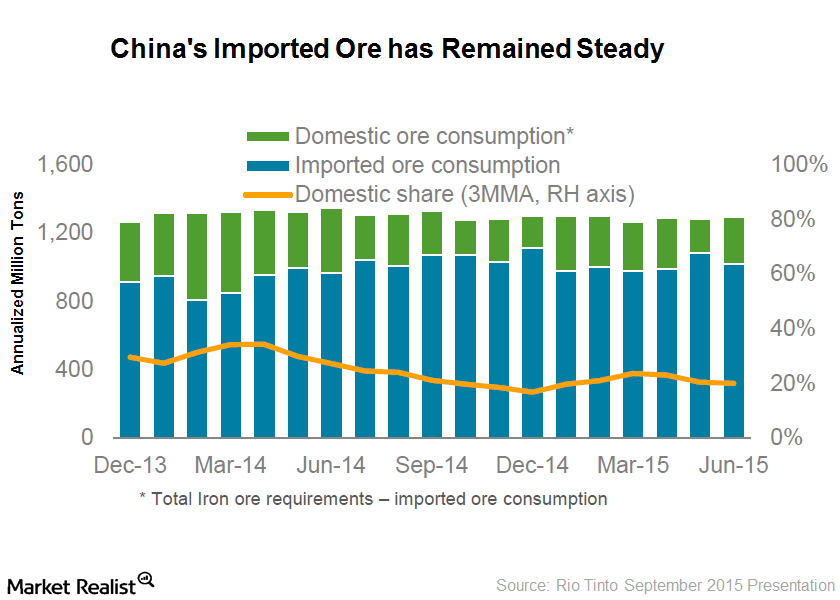 Article continues below advertisement
Global majors such as BHP Billiton (BHP), Vale SA (VALE), and Rio Tinto (RIO) also have the benefit of better technology, economies of scale, and depreciating local currencies compared to the Chinese domestic iron ore producers. BHP and RIO form 7.2% of the SPDR S&P Global Natural Resources ETF's (GNR) holdings.
Domestic capacity going offline
In response to lower seaborne iron ore prices, the high-cost, low-grade domestic capacity has exited the market. Although there is no official data available for the domestic production exiting the market, many industry experts pin the number near 100 million–120 million tons of annualized capacity shut down in the last 18 months.
According to the China Iron and Steel Association (or CISA), China now imports 80% of its iron ore needs compared to 70% just two years ago.
The remaining domestic iron ore production is either controlled by SOEs or is in geographically advantageous locations, near steel mills and far from ports. So, the reduction in domestic capacity from here would be difficult and slow. By some estimates, including that of BHP, "sticky" supply in China should be close to 200 million tons.
Although lower prices would put pressure on marginal mines to close down, for China's majority of the remaining capacity, the process could be a very slow one.