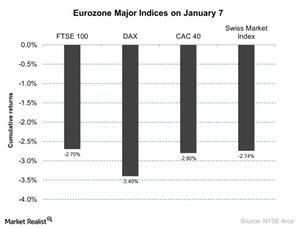 China's Second Day of Trading Halts Weighed on Global Market
By Sarah Sands

Jan. 7 2016, Updated 3:09 p.m. ET
Shanghai's massive sell-off
On Thursday, January 7, 2016, China's Shanghai Composite Index fell more than 7%. As a result, trading was halted for the day. It was the second trading halt this week. Poor economic data suggested contraction in economic activity in China (MCHI). As the economic slowdown in the world's largest economy became clearer to investors, the global market tumbled as investors became nervous about their investments.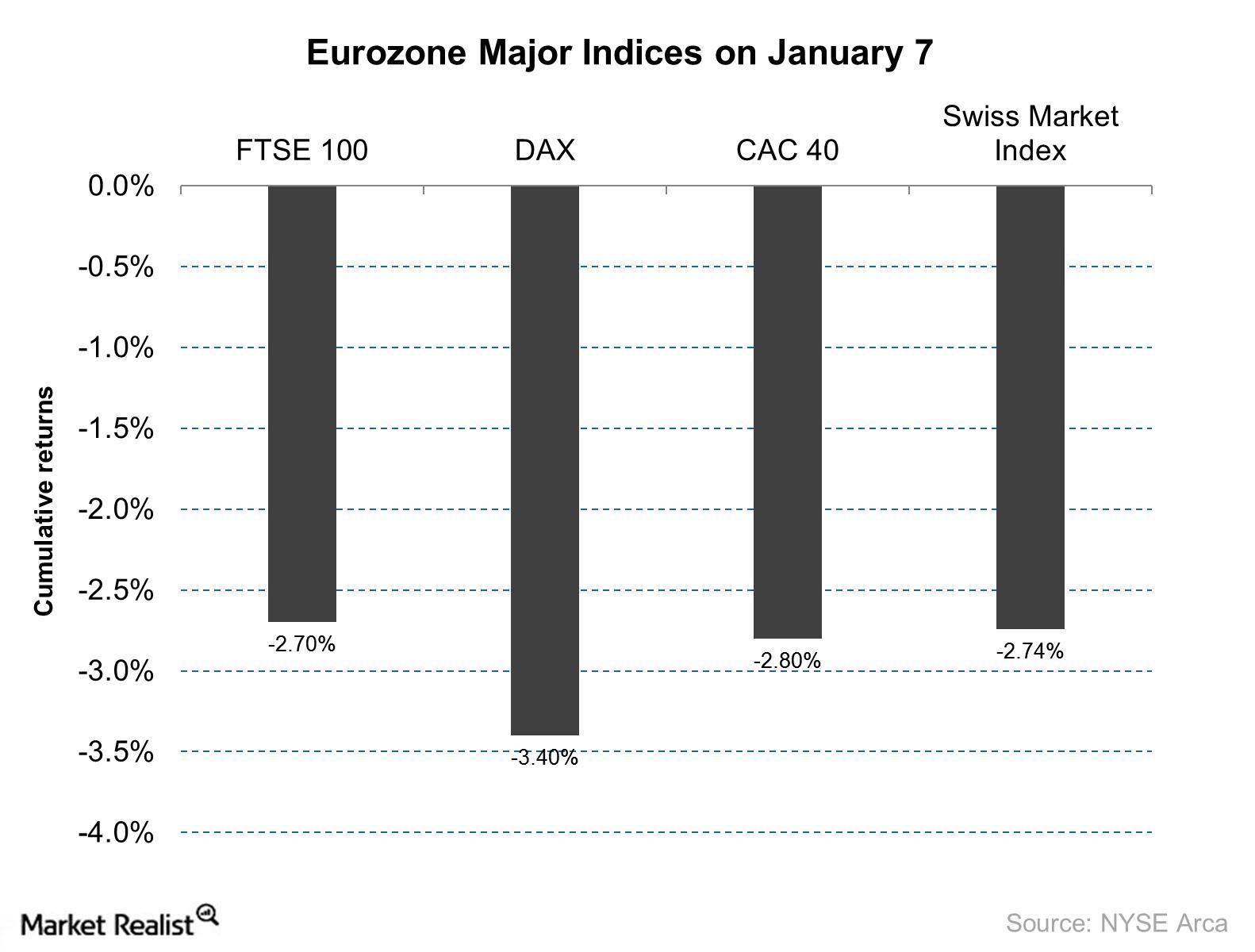 Article continues below advertisement
Crude oil hits its multiyear low
As we discussed previously, growing conflict between the Middle East's major oil exporters created a supply glut in the world market. China's slowdown spurred the downward movement of crude oil.
Major indexes of the Eurozone
The major indexes of the Eurozone opened in the red in Thursday's early trading and continued to trade in the negative zone. The returns of these indexes as of 9:00 AM EST on January 7, 2016, are as follows:
The United Kingdom's FTSE 100 Index fell 2.7%.
Germany's DAX fell 3.4%.
France's CAC 40 fell 2.8%.
Switzerland's Swiss Market Index fell 2.7%.
Asia's major indexes
The major Asian indexes also fell on January 7, 2016. Japan's Nikkei 225 fell 2.4% and Hang Seng fell 3.2%. China's economic slowdown, North Korea's H-bomb test, and lower crude oil prices due to the rise in geopolitical tensions in the Middle East became heavy on developed (EFA) and emerging nations (EEM). Major stocks of Nikkei such as Toyota Motor (TM), Honda Motor (HMC), and Sony (SNE) fell 2.6%, 3.1%, and 3.5%, respectively, on January 7, 2016.
In the next part of this series, we'll look at FEZ's various industries and how they performed on January 6, 2016.