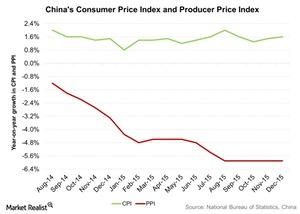 China's PPI Data Continue to Point to a Deflationary Environment
By Lynn Noah

Nov. 20 2020, Updated 5:27 p.m. ET
China's CPI data
In December 2015, China's consumer price index (or CPI) rose 1.6% year-over-year (YoY). This was mainly due to higher food prices and not to an improvement in economic activity. In December, food prices rose 2.7%, and non-food prices rose 1.1%.
The rise in CPI indicates that local consumer demand is slowly strengthening, which is a step toward the transition to a consumer-driven economy from an export-driven one.
In 2015, overall consumer prices were up by 1.4% YoY (year-over-year), down from a 2% rise in 2014. This inflation reading is far below the government's target inflation rate of 3%. Thus, there's room for more stimulus measures from the Chinese authorities to aid the slowing economy.
Article continues below advertisement
China's PPI data
In December 2015, China's producer price index (or PPI) for manufactured goods fell 5.9% YoY as manufacturers resorted to price-cutting due to weak demand. The fall in the PPI had remained unchanged since August 2015. In 2015, the PPI fell 5.2% YoY, up from a 1.9% slip in 2014.
The deflationary trend continues in the manufacturing sector. Because lower prices mean lower profits for factories, it becomes difficult for manufacturers to run their businesses for longer periods of time given their shrinking margins. Also, with the drop in commodity prices such as oil and steel, manufacturers are forced to further reduce their selling prices.
Impact on mutual funds
PPI data point out sluggish local demand in the manufacturing sector. As a result, raw material costs are continuously falling, which adversely affects all companies operating in China. Thus, the performances of mutual funds such as the Clough China Fund Class A (CHNAX), the Guinness Atkinson China & Hong Kong Fund (ICHKX), the Eaton Vance Greater China Growth Fund Class A (EVCGX), and the John Hancock Greater China Opportunities Fund Class A (JCOAX) are also impacted.
The rise in consumer demand is good for the consumer discretionary sector. Consumer discretionary companies such as Jumei International (JMEI), Qunar Cayman Islands (QUNR), Ctrip.com International (CTRP), and JD.com (JD) may be positively impacted.
For more analysis on mutual funds, please visit Market Realist's Mutual Funds page.