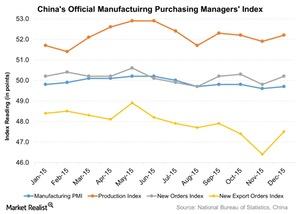 China's Official Manufacturing PMI Nudged Up in December
By Lynn Noah

Updated
Meaning and importance of PMI
China's manufacturing purchasing managers' index (or PMI) is an economic indicator that provides a snapshot of the manufacturing sector of an economy. A reading above 50 indicates that the activity is expanding while that below 50 signals a contraction.
The manufacturing PMI is based on variables such as output, new orders, employment, and prices across key sectors. This measure provides some advance insight as to how the manufacturing sector of the economy is performing. This index is released every month by the National Bureau of Statistics of China, mainly focusing on large Chinese companies.
Article continues below advertisement
Official manufacturing PMI ticked up in December
China's official manufacturing PMI reading for December 2015 was up slightly and came in at 49.7. However, it was still in contraction mode compared to 49.6 in November.
The new orders index rose to 50.2 from 49.8 in November, while the production index was up to 52.2 from 51.9 in the previous month. The new export orders index also grew to 47.5 from November's 46.4.
Most of the factories in China are facing overcapacity due to weak demand at home as well as abroad. Manufacturers are forced to reduce selling prices to stay in business, which impacts their margins. The stimulus measures introduced by the Chinese authorities have showed some impact on the manufacturing sector. However, more reforms would be needed in 2016 for manufacturing to get going again.
Impact on mutual funds
China-focused mutual funds such as the AllianzGI China Equity Fund – Class A (ALQAX), the Guinness Atkinson China and Hong Kong Fund (ICHKX), the Shelton Greater China Fund (SGCFX), and the US Global Investors China Region Fund have more than 10% exposure to the industrials sector. The performance of these mutual funds took a hit due to the slowdown in the manufacturing sector.
These mutual funds are invested in stocks of companies such as Taiwan Semiconductor Manufacturing Company Limited (TSM), China Petroleum & Chemical Corp. (SNP), Tencent Holdings (TCEHY), Ping An Insurance Group Co. of China (PNGAY), and China Mobile Ltd (CHL). Weak global demand and uncertain economic outlook adversely impacted the performance of these companies.
In the next article, we will look at the China's official nonmanufacturing purchasing managers' index.