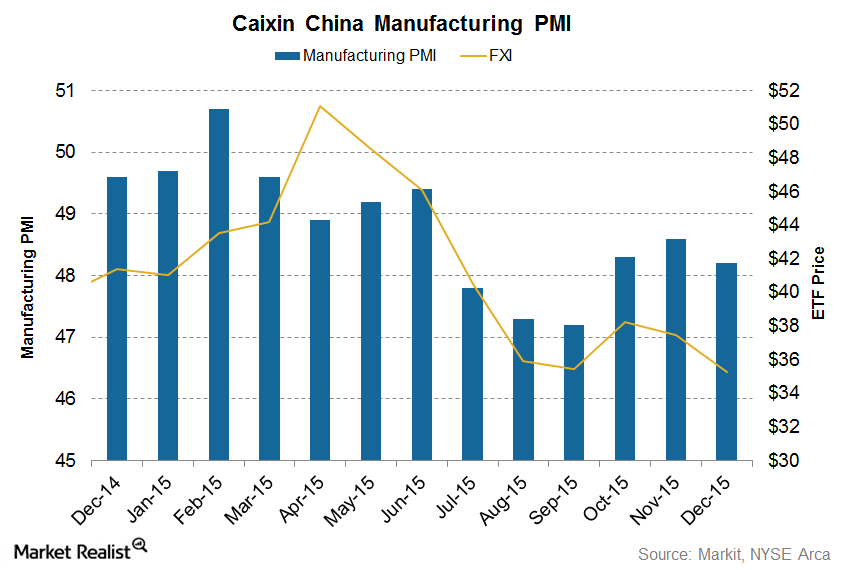 China's Manufacturing Deteriorated Further in December 2015
By Lara Sheldon

Nov. 20 2020, Updated 2:45 p.m. ET
China's manufacturing rose to 48.2 in December
China accounts for ~8.4% of the global GDP, and manufacturing activity contributes about 31% to China's GDP. According to Markit, the Caixin China manufacturing PMI declined 0.4 points to 48.2 in December, compared to 48.6 in November 2015.
As a result, the iShares China Large-Cap ETF (FXI) and the Direxion Daily FTSE China Bull 3X ETF (YINN) fell 3.2% and 9.8%, respectively, on January 4, 2016. China Mobile (CHL), Alibaba Group Holding (BABA), and China Petroleum & Chemical (SNP) fell 2.2%, 5.6%, and 2.7%, respectively, on January 4.
Article continues below advertisement
Commenting on the China General Manufacturing PMI data, Dr. He Fan, chief economist at Caixin Insight Group, noted in a press release, "The Caixin China General Manufacturing PMI for December is 48.2, down 0.4 points from the reading for November. This shows that the forces driving an economic recovery have encountered obstacles and the economy is facing a greater risk of weakening.
"More fluctuations in global markets are expected now that the U.S. Federal Reserve has started raising interest rates. The government needs to pay more attention to external risk factors in the short term and fine-tune macroeconomic policies accordingly so the economy does not fall off a cliff. It needs to simultaneously push forward the supply-side reform to release its potential and reap the benefits."
Domestic and export orders declined in December
With a decrease in output in December, manufacturing firms in China signaled deterioration of operating conditions in December. New orders saw a decline in November, mainly attributed to a decline in domestic as well as export demand. New export orders fell for the first time in three months.
With overall lower order books, December's purchasing activity was low. Because manufacturers were relatively cautious toward their inventory holdings, they reduced stocks of inputs. However, fewer sales led to the accumulation of stocks of finished goods in December. Manufacturers were seen shedding jobs due to lower order book and production level.
Sharper falls in input costs and output charges
With declining energy and commodity prices, cost inflation was also on the lower side. To boost demand and to remain competitive in the market, manufacturers passed the decrease in input costs to the customers by lowering the sale price by Chinese manufacturers. With manufacturing activity deteriorating further in December, the effective analysis of macroeconomic conditions needs to be undertaken to bring the China back to the growth track.
To learn more about manufacturing, please read Russian Manufacturing Contracts in December. To remain updated on the economic front, please refer to our Global ETF Analysis page.