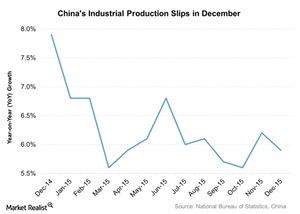 China's Industrial Production and Urban Fixed-Asset Investments Slip in December
By Lynn Noah

Jan. 20 2016, Published 12:01 p.m. ET
China's industrial production fell in December
According to China's NBS (National Bureau of Statistics), China's industrial production grew at a rate of 5.9% on a YoY (year-over-year) basis in December, which was down from 6.2% in November. The data indicates that China may take some time to come out of its current slump as Chinese factories are operating at overcapacity. In 2015, the total value added of China's industrial enterprises above designated size was up by 6.1% YoY, which was lower than the 8.3% growth we saw in 2014.
Since 2011, enterprises above designated size has referred to all industrial enterprises with revenues of over 20 million yuan from their principal business.
Article continues below advertisement
China's urban fixed-asset investments dropped in December
According to China's NBS, China's urban fixed-asset investment grew by 10.0% to about 55.2 trillion yuan, or about $8.4 trillion, in 2015, which was down from 15.7% in 2014. In December, China's investment in urban fixed assets increased by 0.68% on a month-over-month basis—down from 0.73% in November.
Fixed-asset investments are considered to be key drivers of economic growth, and the data indicates that this continued decline in the fixed investments is due to a general slowdown in demand. As a result, YoY investments in factories, machinery, property, and other fixed assets have declined considerably in China.
The consequences of China's slump in industrial output
With the current manufacturing slump in China's industrial production, China's GDP (gross domestic product) grew by 6.9% in 2015, which was lower than its target aim of 7%. The sharp fall in commodity prices—particularly in oil and metals—coupled with weakness in global demand may result in a further slowdown in China's industrial activity.
China is a major revenue driver for multinational companies such as Ford Motor Company (F), General Motors Company (GM), and Apple (AAPL). The revenues of these companies have been directly impacted by the slowdown in industrial production in China.
Gauging the impact of this slump on mutual funds
China-focused mutual funds like the Clough China Fund Class A (CHNAX), the John Hancock Greater China Opportunities Fund Class A (JCOAX), and the Guinness Atkinson China and Hong Kong Fund (ICHKX) have more than 10.0% exposure apiece to China's industrials sector. So this slowdown in China's industrial production should directly impact the performance these funds.
Meanwhile, the Eaton Vance Greater China Growth Fund Class A (EVCGX) has only about 7% exposure to industrials sector, and so this slowdown in factory output should have less of an impact on EVCGX's overall performance than it will likely have on other funds.
Now let's look at China's latest retail sales data.