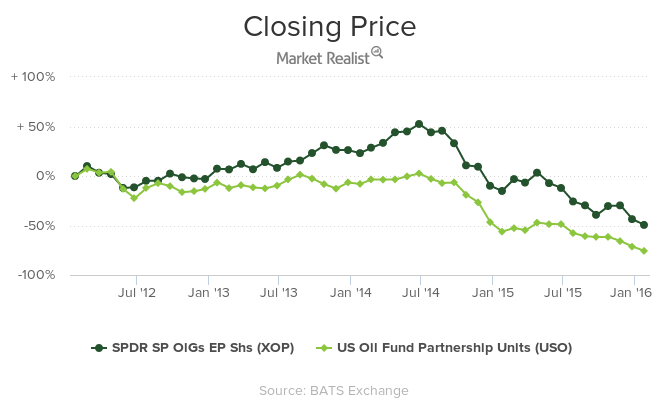 China and Iran Get Close: Impact on Crude Oil Market
By Rabindra Samanta

Jan. 26 2016, Updated 9:19 a.m. ET
China, Iran, and crude oil
The recent visit of Xi Jinping to Iran has resulted in an additional $600 billion in trade deals over the next decade. China (FXI) is one of the biggest consumers of crude oil and natural gas. Iran accounts for a significant amount of crude oil reserves and the largest proven natural gas reserves. In 2014, China consumed 185.5 billion cubic meters of natural gas, which is 5.4% of the world's total natural gas consumption. China also accounts for 12.5% of the world's total crude oil demand.
[marketrealist-chart id=996806]
Article continues below advertisement
Chinese companies may also engage in developing oil and gas fields to strengthen Iran's nonrenewable energy output. Iran has planned to raise its crude oil output by 1 million barrels per day in two phases. The recent deal with Iran marks a significant milestone for the two countries in terms of trade. The Chinese market is also important to other crude oil producers like Saudi Arabia. The recent deal may intensify the market share war between two regional powers, Iran and Saudi Arabia.
This series will focus on the following points:
China's new diplomatic policy
the impact on Russian energy exports
Iran's role as a leading nonrenewable energy supplier
Iran's nonrenewable energy reserves
moving averages and analysts' estimates for companies in different energy streams
The crude oil plunge and energy investors
The earnings of large cap energy firms like ExxonMobil (XOM), Chevron (CVX), and Occidental Petroleum (OXY) are inching toward new lows as their upstream businesses have been impacted by lower crude oil prices. However, thanks to the downstream segments, these companies are able to recover the income losses. The graph above shows the impact of crude oil on the performance of the SPDR S&P Oil & Gas Exploration & Production ETF (XOP).