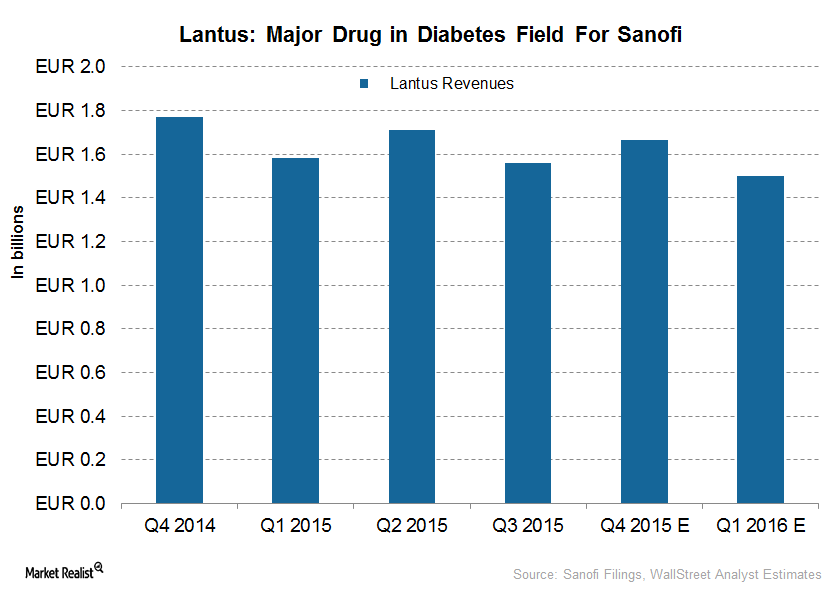 How Can Sanofi Maintain Its Leadership in the Diabetes field?
By Jillian Dabney

Jan. 29 2016, Updated 3:13 p.m. ET
Sanofi's portfolio of diabetes drugs
The revenue from Sanofi's (SNY) diabetes division amounted to 1.9 billion euros for 3Q15, down by 6.6%. The portfolio includes various products such as Lantus, Amaryl, Apidra, Toujeo, Insuman, BGM (Blood Glucose Monitoring), Lyxumia, and Afrezza.
Lantus, the major contributor, brings ~84.3% of the revenue from the diabetes field. The drug is the global leader in the basal insulin market. Lantus, or insulin glargine, is a long-acting, man-made version of human insulin.
The graph above depicts revenues earned by Lantus over the past five quarters, along with Wall Street analysts' estimates for the next two periods. The product is expected to add 1.7 billion euros and 1.5 billion euros to the diabetes portfolio for 4Q15 and 1Q16, respectively.
Article continues below advertisement
Performance last quarter
On a constant-exchange-rate basis, Lantus experienced a fall of 10.8% in total sales during the third quarter of 2015. Lantus sales in the United States fell sharply, by ~19.6% for the period. As healthcare costs are increasing and the aging population is growing, the US government is pushing for price cuts and increased use of generics. Lantus experienced a decline on account of a slower basal insulin market and the higher discounts it had to offer to government channels.
The graph above shows the global diabetes market in terms of value. Novo Nordisk (NVS) is leading the market with a share of 28%. Novo Nordisk and Sanofi are followed by Merck & Co. (MRK), which holds Januvia in its diabetes portfolio.
Lantus is facing increased competition 
Revenues from Lantus are expected to decline due to the changing dynamics of the diabetes market. Eli Lilly and Company (LLY) launched a biosimilar of Lantus, Basaglar, in several European markets and Japan. Eli Lilly and Sanofi settled the patent litigation, which provided Sanofi with some short-term relief. Basaglar will be launched in the United States in December 2016.
Lantus is facing major competition from Novo Nordisk's Levemir. To sustain the market, Sanofi came up with Toujeo insulin. Toujeo analogs include Trulicity from Eli Lilly, Tresiba and Levemir from Novo Nordisk (NVO), and Bydureon and Farxiga from AstraZeneca (AZN). With fierce competition in the diabetes space coupled with continuous innovative launches, there might be a difficult time ahead for Lantus.
To avoid ups and downs in stock prices, investors could opt for the PowerShares International Dividend Achievers ETF (PID). Sanofi accounts for 1.4% of PID's total holdings.