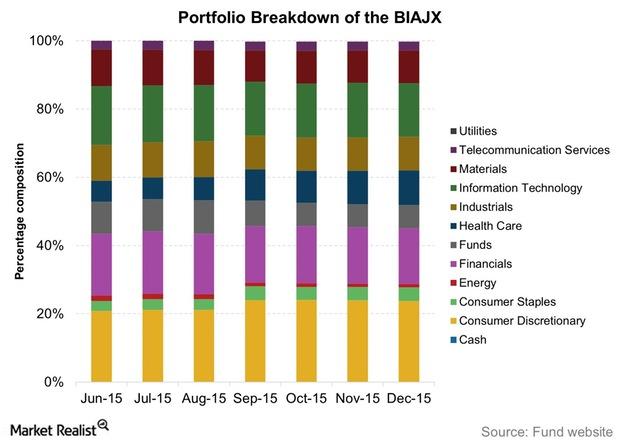 Brown Advisory WMC Japan Alpha Opportunities Fund (BIAJX) in 2015
By David Ashworth

Jan. 29 2016, Updated 4:52 p.m. ET
Brown Advisory WMC Japan Alpha Opportunities Fund
According to the Brown Advisory WMC Japan Alpha Opportunities Fund (BIAJX), it "seeks to achieve total return by investing principally in equity securities issued by companies established or operating in Japan, while limiting exposure to fluctuations between the value of the Japanese yen and the U.S. dollar." The fund states that at least half of its exposure to the Japanese yen is hedged at all times.
Article continues below advertisement
A Japan-focused fund, BIAJX does not target any specific segment in terms of market capitalization and intends to be benchmark agnostic. What this means is that it does not intend to replicate its benchmark, and the fund's performance is benchmarked to the TOPIX Total Return US Dollar Hedged Index. A comparison of its portfolio with the stated benchmark shows a significant difference between percentage weight allocated to the consumer staples, industrials, and information technology sectors.
BIAJX is quite diversified, with 215 holdings as of December 2015. It managed assets worth $2.21 billion. Its cash and equivalents holdings (which includes investment in liquid funds), is offset to a degree by exposure to equity index futures.
As of December 2015, the fund's equity holdings included Mizuho Financial Group, Inc. (MFG), Honda Motor Co., Ltd. (HMC), Canon Inc. (CAJ), Konami Corp. (KNM), and Japan Airlines Co., Ltd. (JAPSY), which comprised 5.4% of the fund's portfolio.
Historical portfolios
For this analysis, we will be considering holdings as of September 2015, which is the latest available sectoral breakdown with us. The post-September holdings reflect the valuation-driven changes to the portfolio, not the actual holdings. The fund discloses portfolio holdings once each quarter and so far, it has not declared the complete portfolio for December 2015.
The consumer discretionary sector forms about a quarter of the fund's portfolio. Financials and information technology sectors are quite close in terms of portfolio weight, and they are the second- and third-most-invested sectors, respectively. Healthcare and industrials round out the top five invested sectors.
From December 2014 until December 2015, fund managers increased exposure to the consumer discretionary sector. Exposure to the sector had initially been decreased, but it was then propped up later in the year. Exposure to healthcare stocks has also been stepped up. The sector, which used to occupy slightly over 5.5% of the portfolio a year ago, now forms over a tenth of the assets. Consumer staples also occupy more of the portfolio than they did a year ago.
On the other hand, exposure to industrials and materials has been reduced over the course of the year. Fund managers have also deployed assets held in liquid funds toward buying stocks.
How has the BIAJX fared in 2015? Let's look at that in the next article.