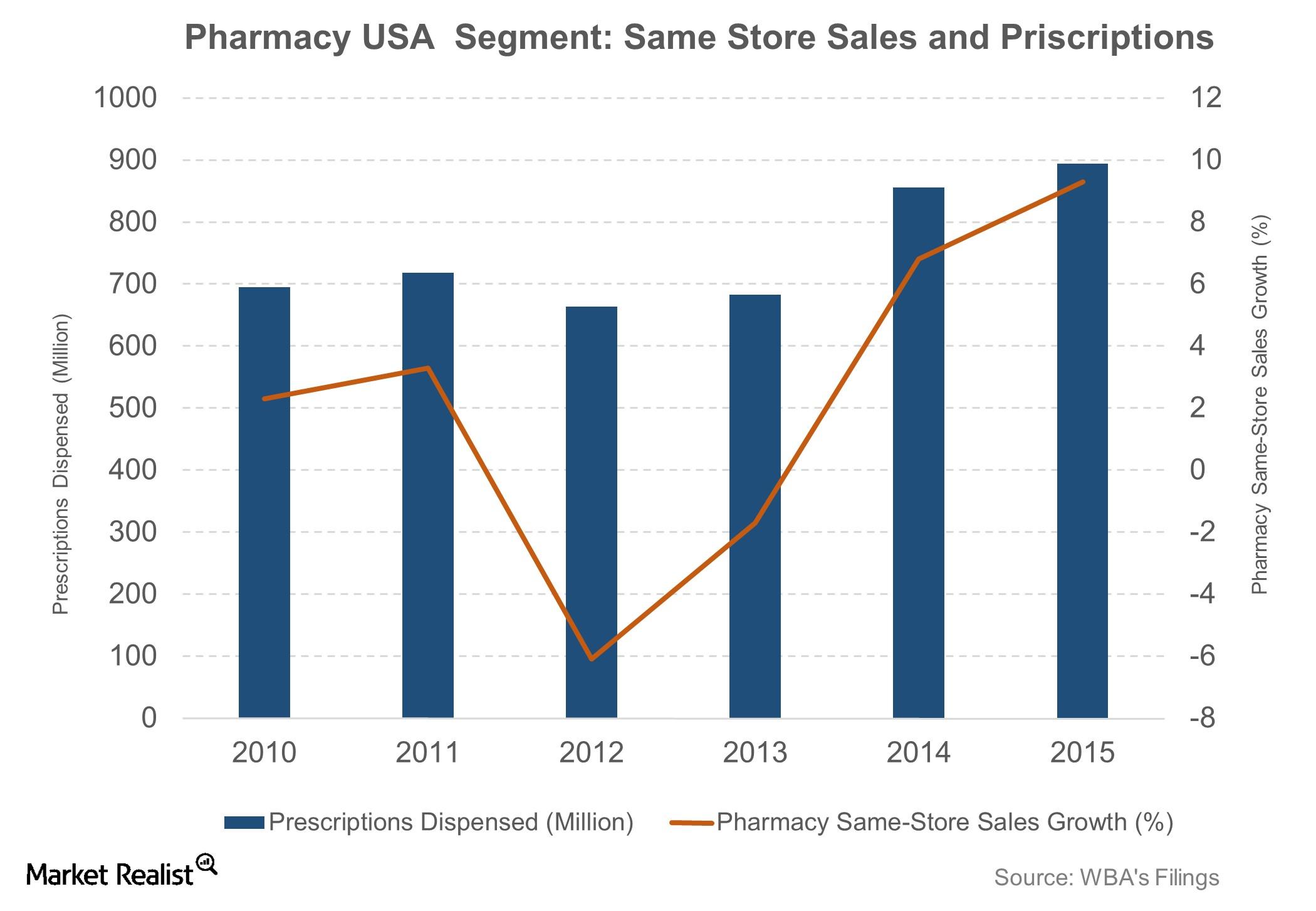 A Breakdown of Walgreens Boots' Retail Pharmacy USA Division
By Sonya Bells

Jan. 20 2016, Updated 2:43 p.m. ET
Retail Pharmacy USA in detail
Walgreens Boots Alliance's (WBA) Retail Pharmacy USA division has two main components:
pharmacy – the sale of prescription drugs and provision of pharmacy-related services
retail – the sale of healthcare and retail products including non-prescription drugs, beauty, toiletries, and general merchandise
Article continues below advertisement
Pharmacy
The pharmacy component accounted for two-thirds of the Retail Pharmacy USA division's sales in fiscal 2015. During the year, comparable pharmacy sales were up by 9.3%. The company filled 894 million prescriptions, which is an increase of 4.4% on a 30-day adjusted basis over the total from the previous year.
Walgreens Boots Alliance's retail prescription market share increased by ~20 basis points to 19.1% for the year ended August 31, 2015. The federally funded Medicare Part D prescription program was the reason for this increase.
Peer comparison for the pharmacy segment
Walgreens Boots Alliance's pharmacy segment has been highest among those of the top three drugstore operators in terms of same-store sales. WBA's average pharmacy same-store sales growth for the last 12 quarters was 4.9%. This is higher than CVS Health's 3.9% and Rite Aid's 2.7% from the same period.
Article continues below advertisement
Retail segment
The retail component brought in the remaining one-third of sales for the Retail Pharmacy USA division in fiscal 2015. Retail sales increased by 1.9%, while comparable sales increased by 1.5% during the year. The company has seen a gross profit margin improvement for the sixth quarter in succession for this segment.
Walgreens Boots Alliance aims to increase its focus on the retail segment and plans to develop a front-of-store model that offers improved categories and brands such as No7.
Peer comparison for the retail segment
Like the pharmacy segment, Walgreens Boots Alliance's retail segment outperformed its peers in terms of same-store sales. While WBA's average front-end same-store sales growth for the last 12 quarters was 0.9%, Rite Aid's (RAD) stood at 0.4%. CVS Health's (CVS) front-end same-store sales have seen a negative trend during the last eight quarters and its 12-quarter average same-store sales stood at -2.8%