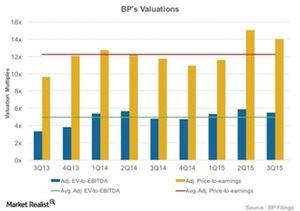 BP's Valuation : A Time-Series Analysis
By Maitali Ramkumar

Jan. 26 2016, Updated 7:29 a.m. ET
BP's valuation trend
BP (BP) traded at an average adjusted PE (price-to-earnings) ratio of 12.2x from 3Q13 to 3Q15. The PE ratio measures a company's price per share as a multiple of its EPS (earnings per share). The PE ratio is subject to stock price volatility.
The ratio is also affected by EPS, which are a factor of numerous variables, including realizations, volumes, costs, and margins.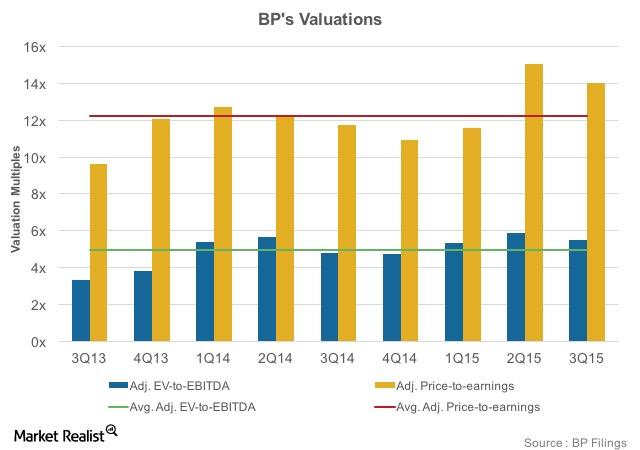 BP's adjusted PE ratio has generally shown an uptrend during the past three years. In 3Q15, the stock traded at a 14.1x ratio, falling from highs of 15x in 2Q15.
In the past few quarters, BP has seen its profits squeezed due to lower upstream earnings. This is despite the fact that its refining and Rosneft segments' earnings have improved significantly. The situation is similar for BP's peers ExxonMobil (XOM), Chevron (CVX), and Royal Dutch Shell (RDS.A).
Article continues below advertisement
BP's EV-to-EBITDA: Higher than historical average
From 3Q13 to 3Q15, BP traded at an average adjusted EV-to-EBITDA (enterprise value to earnings before interest, tax, depreciation, and amortizaton) multiple of 4.9x. EV-to-EBITDA is affected by changes in EV as well as EBITDA.
EV is broadly measured as market capitalization plus debt minus cash. EV reflects the theoretical purchase value of an entire company. It's subject to market volatility. On the other hand, EBITDA is affected by a company's operating and financial performances.
BP's adjusted EV-to-EBITDA ratio saw highs of 5.9x in 2Q15 before tapering down to 5.5x in 3Q15. As explained above, in the past few quarters, BP has seen lower revenues being translated to lower adjusted EBITDA.
A steep fall in EBITDA compared to EV led to a rise in BP's EV-to-EBITDA multiple. This high valuation multiple implies that stakeholders have faith that BP will make it through the oil price cycle without too much difficulty.
For exposure to the integrated energy sector, you can consider the iShares Global Energy ETF (IXC), which has ~58% exposure to energy sector stocks.