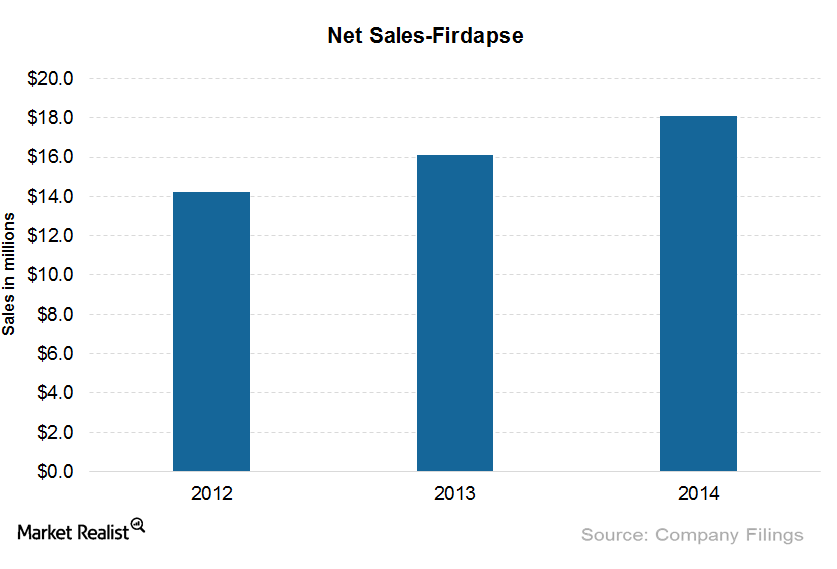 BioMarin's Firdapse for Lambert-Eaton Myasthenic Syndrome
How Did BioMarin acquire Firdapse?
Firdapse is indicated for Lambert-Eaton Myasthenic syndrome (or LEMS). The chemical name of Firdapse is amifampridine phosphate. Its active ingredient is 3,4-diaminopyridine (or 3,4-DAP). The original developer for the 3,4-DAP molecule was the pharmaceutical unit ( or AGEPS) of the Paris Public Hospital Authority (or AP-HP). Eusa Pharma acquired rights to develop 3,4-DAP from the original developer. Huxley Pharmaceuticals—later acquired by BioMarin (BMRN) in 2009—had licensed the rights for development of the molecule from Eusa Pharma.
So, by acquiring Huxley, BioMarin obtained rights to market the drug in the EU (European Union) where the drug has orphan status. BioMarin launched Firdapse in the EU in 2010.
The graph above presents net sales of Firdapse. It's manufactured by a third party on a contract basis. In 2012, the company licensed the rights to develop and market the drug in the United States, Canada, and Mexico to Catalyst Pharmaceuticals (CPRX).
The drug was offered a breakthrough therapy designation along with orphan status in the United States. Catalyst Pharma has filed an NDA (new drug application) with the FDA for Firdapse. If approved, the company plans to launch Firdapse in the first half of 2016.
Article continues below advertisement
How much would Firdapse cost?
Catalyst Pharma has projected that the drug possesses a revenue opportunity of ~$300 million–$900 million. Considering the numbers provided by Catalyst Pharma, the drug might be priced at $100,000 per year.
As per the National Health Service (or NHS) North East Treatment Advisory Group, Firdapse costs around 47,000 euros per annum at the maximum dose. However, BioMarin offers substantial discounts under the patient access scheme. The list price for the drug is 1,815 euros for a pack of 100 tablets, each providing 10 mg (or milligrams) of amifampridine.
Overview of Lambert-Eaton Myasthenic syndrome
Lambert-Eaton Myasthenic syndrome is a rare autoimmune disease that progressively weakens muscles of the limbs. The disease can occur at any age. However, it usually affects individuals after 40 years of age. The prevalence of the disease is ~1 per 100,000. There are ~4,650 patients suffering from LEMS in the United States, Canada, and Mexico. There are ~7,000 rare diseases across the globe. The unmet medical need for the diseases results in premium pricing for such drugs. Companies such as Novartis AG (NVS), Alexion Pharmaceuticals (ALXN), and Regeneron Pharmaceuticals (REGN) are focusing on an orphan drug portfolio.
To avoid direct risk exposure, investors can opt for the First Trust NASDAQ-100 Ex-Technology Sector Index Fund (QQXT) that holds 1.5% of its total holdings in BioMarin stock.