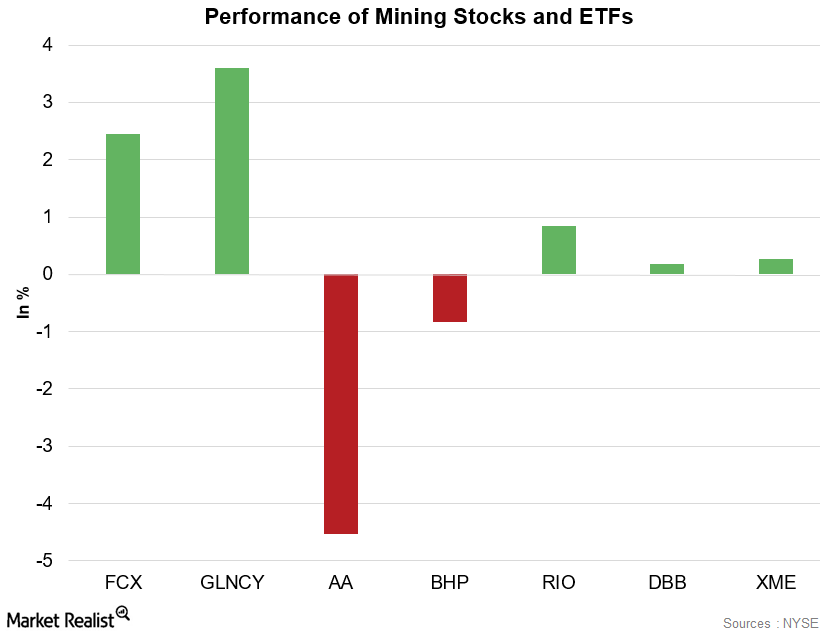 Base Metal Miners Find Support
Base metal miners bounce back
The equities of major base metal miners fell to multi-week lows on Monday but recovered during yesterday's trade. Copper recovered yesterday, and the equities of major base metal miners followed suit.
Article continues below advertisement
Freeport-McMoRan and Glencore recover
Freeport-McMoRan (FCX) started this week on a negative note by falling 3.2% on Monday. FCX, one of the major copper producers of the world, recovered yesterday, rising 2.5% to end the day at $6.71. FCX was in a falling trend for most of 2015 due to pressure from the weak Chinese economy and weak global base metal demand. FCX fell 71.5% in 2015. Glencore (GLNCY) fell 4.8% on Monday to begin 2016 with a loss. Glencore recovered from the two-week low, rising 3.6% yesterday to close at $2.59.
Alcoa and BHP continue to fall
Alcoa (AA), one of the top aluminum producers in the world, continued to fall for the fourth consecutive day. Alcoa fell on the first trading day of the week and continued in the same direction yesterday. Alcoa fell 4.5% yesterday to close at $9.27. This is the lowest closing price for Alcoa since December 18, making it a two-and-a-half-week low.
BHP Billiton (BHP), an Anglo-Australian mining company, fell 0.8% yesterday to close at $25.27. This is the fourth consecutive loss for BHP and the lowest closing price since December 22. On Monday, Rio Tinto fell 2.4% to a two-week low but recovered in yesterday's trade. Rio Tinto (RIO) rose 0.85% and ended the day at $28.65.
The PowerShares DB Base Metals Fund (DBB) rose 0.17% yesterday, and the SPDR S&P Metals and Mining ETF (XME) rose 0.27%.