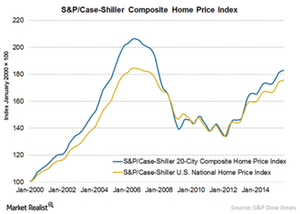 Why Barbara Corcoran Credits Donald Trump for Changing Manhattan
By Surbhi Jain

Jan. 26 2016, Published 4:32 p.m. ET
Donald Trump the developer
Donald Trump—who is, of course, currently running for the Republican Party's presidential nomination—has also been closely associated with the housing market (IYR) (REM) and Barbara Corcoran, founder of The Corcoran Group. Trump is a developer himself. He developed 42nd Street for New York City, changing real estate values in the city.
Article continues below advertisement
Manhattan to luxury Manhattan
In an interview with Wall Street Week, Corcoran was asked about her views on Trump. According to Corcoran, Trump is "due the credit of changing the view of Manhattan to the view of luxury Manhattan." Trump changed Manhattan's image. Trump Tower, located at 725 5th Avenue, is famous across America. Built in 1983, the tower has seen home prices in New York rise by about 350% to date.
The S&P/Case-Shiller New York Home Price Index, which measures the average change in the value of residential real estate in New York, has been rising significantly since then. (See the chart above.) General Growth Properties (GGP), Spirit Realty Capital (SRC), and American Tower Company (AMT) are a few firms that have made good gains from the housing market since the collapse of 2008–09.
One must run a public office for the right reason, says Corcoran
With regard to Trump as a presidential candidate, Corcoran's views weren't so positive. She doesn't deny that being a great businessperson is a great credential, which may seem to tilt the scales to Trumps' favor. However, Corcoran believes you must run a public office for the right reason—and definitely not to satisfy your ego. Running a public office for your own reputation, or to polarize people, doesn't strike Corcoran as a great formula for leadership.
But she did applaud Michael Bloomberg, founder and owner of Bloomberg LP, who was successful as New York City's mayor.