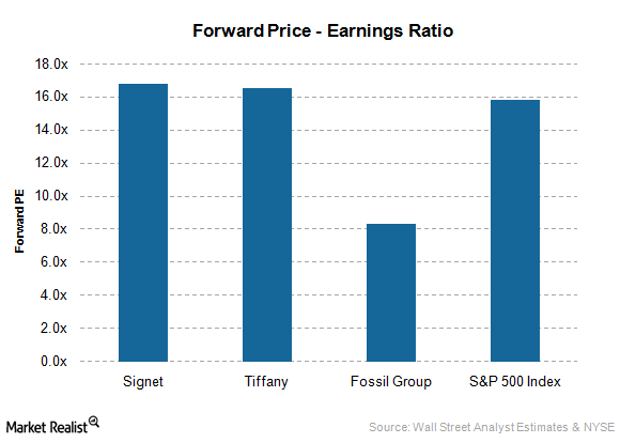 Assessing Signet Jewelers' Market Valuation
Signet Jewelers' market valuation
Signet Jewelers (SIG) is the world's largest retailer of diamond jewelry. As of January 8, 2016, Signet was trading at the highest forward PE (price-to-earnings) multiple compared to its peers in the jewelry industry (XRT), including Tiffany (TIF) and Fossil Group (FOSL). It's also trading at a higher valuation relative to the S&P 500 (SPY) (IVV) (VOO).
As of January 8, 2016, Signet, Tiffany, and Fossil were trading at multiples of 16.8x, 16.5x, and 8.3x, respectively. SPY was trading at a forward PE multiple of 15.8x as of January 8, 2016. Signet is trading at 16.8x forward earnings, which is at the lower end of its one-year range of 15.0x to 21.0x.
Article continues below advertisement
Industry performance compared to Signet's performance
According to MasterCard SpendingPulse, retail sales in the United States, excluding auto and gas, increased about 8% year-over-year between Black Friday on November 27, 2015, and Christmas Day. It was driven by e-commerce sales that grew by double digits with 20% YoY (year-over-year) growth, mainly driven by Amazon (AMZN).
Signet's e-commerce sales during the holiday season were $139.7 million, up 10.9% compared to the prior year. E-commerce sales accounted for 7.2% of Signet's total holiday sales compared to 6.8% in the prior year.
But high-end watches and jewelry didn't see any benefit from the holiday season due to a strong US dollar, according to MasterCard SpendingPulse. Signet, which generates almost 87% of its revenue from the United States, witnessed growth in the holiday season.
The holiday season in the United States saw less YoY mall traffic, which affected retail sales. Purchases for Signet Jewelers were preplanned for engagements, weddings, and gifts, driven by bonding between people. Low mall traffic thus didn't affect Signet's sales for the holiday season.
According to MasterCard SpendingPulse, a rush by consumers at the end of the holiday season helped Signet and Tiffany.
Markets tend to value companies at a high multiple if growth expectations are high. That may be the reason behind Signet having a higher multiple than its peers.