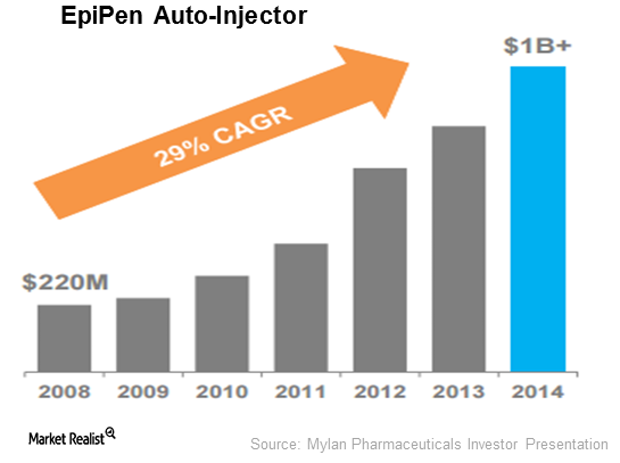 Assessing the Role of the EpiPen Auto-Injector in Mylan's Revenues
By Seth Richards

Jan. 6 2016, Updated 10:07 a.m. ET
What is the EpiPen auto-injector?
EpiPen auto-injectors hold the number one rank in global epinephrine market. The device is used to deliver Epinephrine, which is used for the treatment of severe allergic reactions such as food allergies, drug allergies, and insect bites.
Epinephrine, also known as adrenaline, is a natural hormone released due to strong emotions such as anger, excitement, and fear. MedicineNet defines adrenaline as, "a stress hormone produced within the adrenal gland that quickens the heartbeat, strengthens the force of heart's contraction, opens up the bronchioles in the lungs, among other effects."
According to Mylan NV (MYL), "EpiPen auto-injectors are for the emergency treatment of life-threatening allergic reaction caused by allergens, exercise, or unknown triggers, and for people who are at increased risk for these reactions."
Article continues below advertisement
The above diagram shows the revenues earned by Mylan from the sales of EpiPen between 2008 and 2014. In 2014, Mylan managed to earn more than $1 billion from the sales of EpiPen. Mylan offers two types of EpiPen devices, EpiPen and EpiPen Jr., which have epinephrine capacities of 0.3 mg and 0.15 mg, respectively.
What is anaphylaxis?
Anaphylaxis is an acute life-threatening allergic reaction that decreases blood pressure. Anaphylaxis is commonly found in children as they are more exposed to allergic reactions.
Notably, in 2012, Mylan started distributing free EpiPens to about 42,000 schools in the US through its Epipen4schools program.
Article continues below advertisement
Mylan's growth strategy for EpiPen
Rising prices and increase in recommended dosage frequency have been the key factors contributing to increasing EpiPen auto-injector revenues. EpiPen auto-injector witnessed an increase of about 150% in prices, from $87.9 in 2011 to $380.0 in 2015.
On July 29, 2011, the FDA (US Food and Drug Administration) also announced that the patients who had anaphylaxis should use two epinephrine doses instead of single epinephrine dose. On November 7, 2014, Mylan also signed an agreement with Walt Disney Parks and Resorts to keep EpiPens in Disney's domestic theme parks and on its cruise ship.
Sizing up the competition
On Aug 13, 2012, Sanofi SA (SNY) launched its rival product Auvi-Q, an epinephrine auto-injector. However, EpiPen continues to be a leader in global epinephrine market due to its effective marketing strategy, which involves a robust patient training program. Other generic companies such as Teva Pharmaceuticals (TEVA) and Pfizer (PFE) also depend on blockbuster drugs such as Copaxone and Lipitor, respectively, for major portions of their profits.
Investors can get diversified exposure to Mylan by investing in the iShares NASDAQ Biotechnology ETF (IBB), which also has holdings generic companies Alexion Pharmaceuticals and Vertex Pharmaceuticals. IBB has 3.9% of its total holdings in Mylan's stock.
Now let's look at a few other key drugs in Mylan's portfolio.