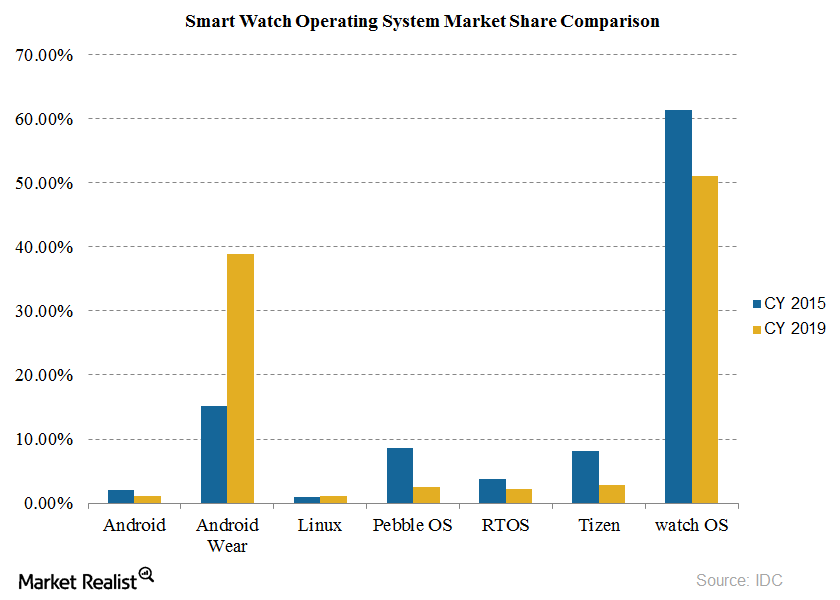 Apple Watch Revenues Expected to Be $8.4 Billion for First Year
By Adam Rogers

Jan. 26 2016, Updated 6:04 a.m. ET
Average selling price is $400
Analyst Horace Dediu expects the average selling price (or ASP) for the Apple Watch (AAPL) to be $400 in its first 12 months of sales. Dediu also projected Apple Watch shipments to reach 21 million units in the first 12 months, generating revenues of $8.4 billion.
Analyst Ben Bajarin of Creative Strategies said that Apple Watch will move more than 100 million units by 2017. This number is overwhelming, considering that IDC (International Data Corporation) estimates Apple Watch shipments of 45 million units in 2019.
Article continues below advertisement
The holiday season for 2015 was expected to be fruitful, driving Apple Watch sales. Major retailers such as Best Buy (BBY) and B&H Photo Video offered discounts and special offers on the Apple Watch. Best Buy cut the retail price by $100. B&H Photo Video cut the selling price by $50 by offering a $50 gift card with each purchase.
IDC estimates Apple Watch shipments of 13 million units in 2015
According to IDC, Apple Watch shipments are forecast to be 13 million units in 2015. This figure is expected to reach 45.2 million in 2019. Global smartwatch shipments are projected to reach 88.3 million in 2019 from 21.3 million. This suggests that Apple Watch's share will fall from 61.3% to 51.1% in this period.
Shipments for Apple's closest competitor, Android Wear (GOOGL), are expected to increase to 34.3 million units from 3.2 million units. Market share for Android Wear is also projected to grow from 15.2% to 38.8% in that period.
While projected shipments of Apple Watch tend to fluctuate, Apple Watch will still account for a major portion of Apple's revenues in the next few years. If iPhone sales don't grow at an unprecedented rate, the smartwatch business segment could drive Apple's revenues in the future.
Apple constitutes 6.5% of the iShares S&P 500 Growth ETF (IVW) and 8% of the iShares S&P GSTI Technology ETF (IGM).