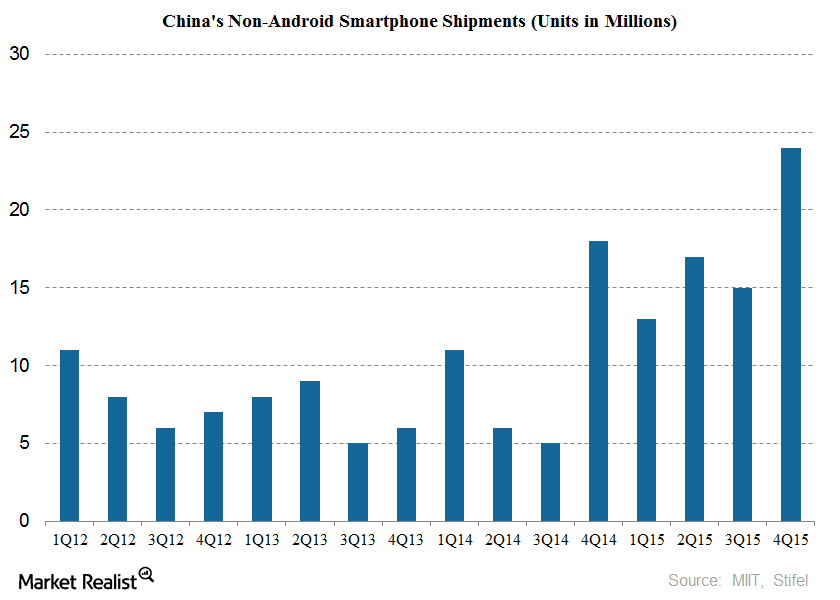 Apple Represents the Majority of Non-Android Smartphones in China
By Adam Rogers

Jan. 14 2016, Updated 11:35 a.m. ET
Android accounts for 81% of China's smartphone sales in 4Q15
According to a report from Stifel, Google's (GOOGL) Android accounted for 81% of overall smartphone sales in China (PGJ) for the quarter ended December 2015, compared to 82.5% in 4Q14 and 88% at the end of 3Q15.
As seen in the above chart, non-Android smartphone shipments increased substantially to 24.3 million units in 4Q15 from 18.3 million units in 4Q14 and 14.5 million units in 3Q15.
Apple's (AAPL) flagship product, the iPhone, makes up the majority of total non-Android phones sold in China. According to Kantar WorldPanel, BlackBerry (BBRY), Windows (MSFT), and Tizen constitute 2.5% of China's smartphone sales. Research data suggests that Apple accounts for 90% of non-Android smartphones in China. Growth in China's non-Android smartphone sales can also be attributed to Apple's sales expansion.
Article continues below advertisement
Will Apple beat supply chain concerns in 4Q15?
Apple's CEO (chief executive officer) Tim Cook said in September 2015 that the company would exceed its target of 74.5 million iPhone unit sales in 4Q15. However, there were a number of investment companies that stated Apple would cut orders from suppliers and post lower iPhone sales in 4Q15 and 1Q16.
Apple's share price has fallen 15% since December 1, 2015, from $117.34 to $99.96 on January 12, 2016, on supply chain rumors. According to Stifel analyst Aaron Rakers, China's non-Android smartphone sales, mainly consisting of the iPhone, rose 33% YoY (year-over-year) in 4Q15.
Apple's rival Samsung (SSNLF) has told investors to brace for poor smartphone performance driven by increased competition.