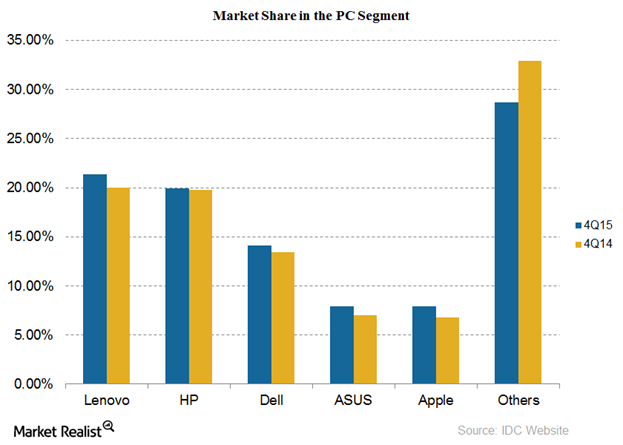 Apple, Lenovo, ASUS Saw Impressive PC Shipment Growth in the US
By Adam Rogers

Jan. 27 2016, Updated 1:41 p.m. ET
US PC shipments fell 4.3% in 4Q15
According to market research company International Data Corporation, total PC (personal computer) units in the United States fell 4.3% from 18.2 million units in 4Q14 to 17.4 million units in 4Q15. Apple (AAPL), Lenovo, and ASUS were the manufacturers that saw their unit shipments grow YoY (year-over-year). While Apple's shipments grew 8.9% to 2.2 million units, ASUS's shipments rose by 11% to 1.2 million units.
China's (FXI) Lenovo (LNVGY) saw its PC shipments rise significantly by 21.3% YoY to 2.2 million units. Hewlett-Packard saw a fall of 7.8% in its PC shipments, to 4.9 million units in 4Q15.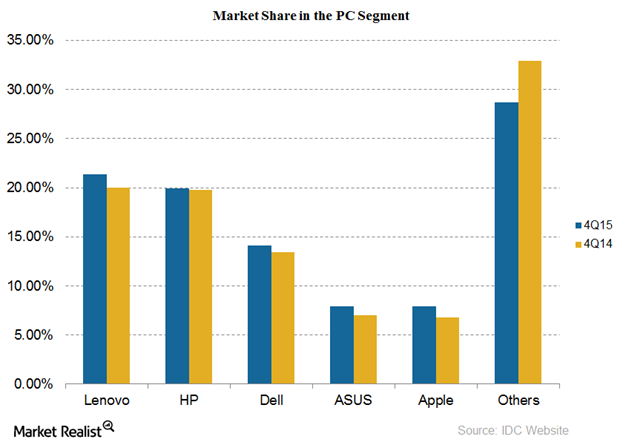 Article continues below advertisement
"The U.S. PC market fell -4.3% year over year to 17.4 million units. Although the U.S. dollar has been strengthening in lieu of currency crises in other regions, consumers here are not immune to economic concerns that have persisted globally," said Linn Huang, a research director at International Data Corporation.
"The free upgrade path to Windows 10 allowed some consumers who might otherwise have shopped for new PCs during the holiday season to obtain a 'new' PC experience. Additionally, the launch of the iPad Pro may have syphoned off some consumer interest in traditional PCs. Consequently, the holiday season produced soft results for the U.S. PC market."
Apple's US market share rose YoY
As shown in the above chart, Apple's PC market share in the United States rose from 11.1% in 4Q14 to 12.7% in 4Q15, whereas Lenovo's market share rose from 9.9% to 12.5% in the same period. Dell's market share rose from 23.1% in 4Q14 to 23.9% in 4Q15 with total shipments of 4.2 million.
Hewlett-Packard's (HPQ) market share fell from 29.2% in 4Q14 to 28.1% in 4Q15, whereas ASUS saw a rise of 1 percentage point to 7.1% in 4Q15.
Apple constitutes 11.3% of the PowerShares QQQ ETF (QQQ).