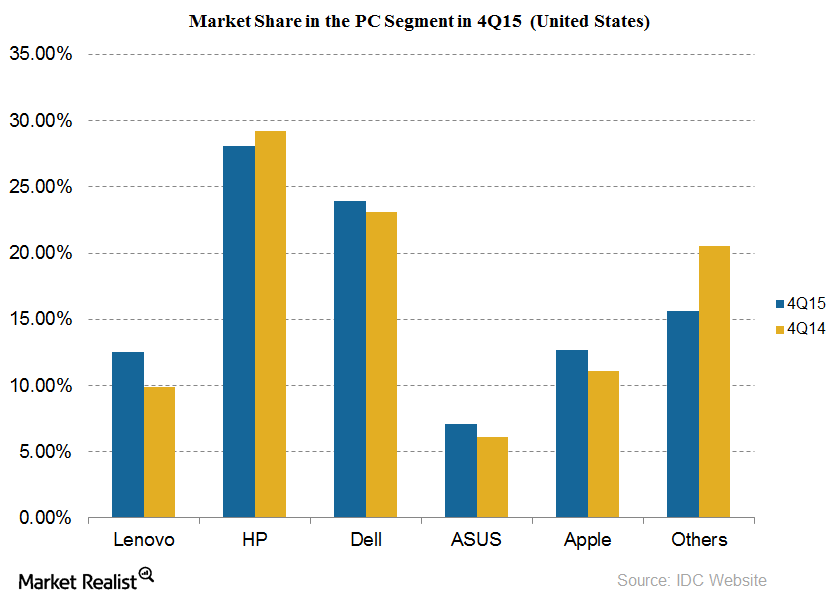 Apple and ASUS Saw PC Shipment Growth in 4Q15
By Adam Rogers

Jan. 27 2016, Updated 1:41 p.m. ET
PC shipments fell 10.6% in 4Q15
According to market research company International Data Corporation, total PC (personal computer) shipments fell 10.6% from 80.4 million units in 4Q14 to 71.9 million units in 4Q15. Apple (AAPL) and ASUS were the only companies to see their unit shipments grow YoY (year-over-year). While Apple's shipments grew 2.8% to 5.65 million units, ASUS's shipments rose a marginal 0.8% to 5.71 million units.
China's (FXI) Lenovo (LNVGY) saw its PC shipments fall 4.5% YoY to 15.4 million units. Hewlett-Packard was the company that saw the steepest fall. Its PC shipments fell 10.1% to 14.3 million units in 4Q15.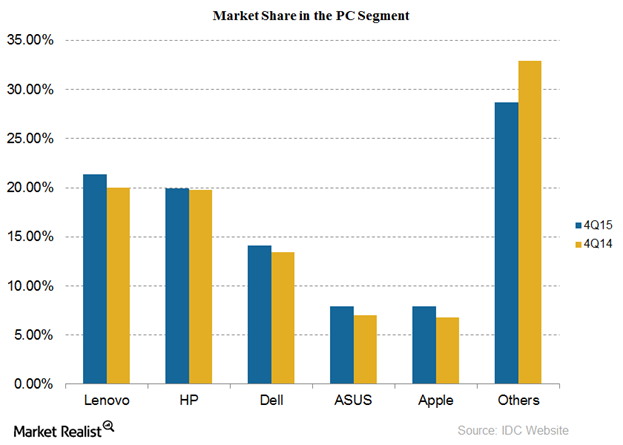 "The PC market remains competitive and the economic environment weakened further with the recent drop in the Chinese stock market," said Loren Loverde, vice president of International Data Corporation's Worldwide PC Tracker Program.
Article continues below advertisement
Loverde also said, "PC replacements should pick up again in 2016, particularly later in the year. Commercial adoption of Windows 10 is expected to accelerate, and consumer buying should also stabilize by the second half of the year. Most PC users have delayed an upgrade, but can only maintain this for so long before facing security and performance issues. We continue to believe that a majority of these users will purchase another PC, motivated by new products and attractive pricing."
Apple's market share rose YoY
As shown in the above chart, Apple's market share rose from 6.8% in 4Q14 to 7.9% in 4Q15, whereas Lenovo's market share rose from 20% to 21.4% in the same period. Dell's market share rose from 13.4% in 4Q14 to 14.1% in 4Q15, with total shipments of 10.2 million.
Hewlett-Packard's (HPQ) market share rose marginally, from 19.8% in 4Q14 to 19.9% in 4Q15, whereas ASUS saw a rise of 0.9 percentage points to 7.9% in 4Q15.
Apple constitutes 11.3% of the PowerShares QQQ ETF (QQQ).