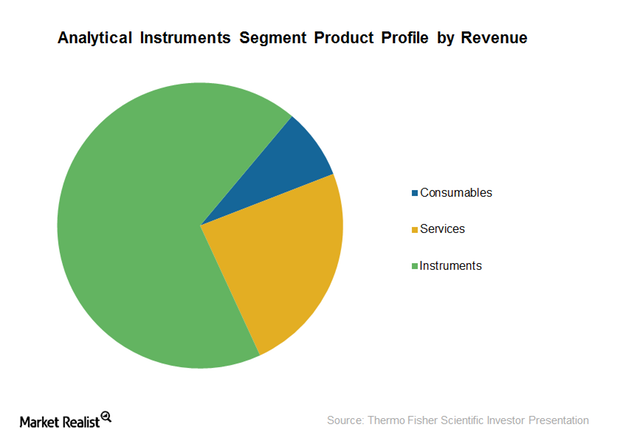 Analyzing Thermo Fisher's Acquisition of Life Technologies
By Sarah Collins

Jan. 8 2016, Updated 10:06 a.m. ET
Structure of the deal
Thomson Fisher Scientific (TMO) completed the acquisition of Life Technologies on February 4, 2014, for $13.6 billion in cash. TMO assumed approximately $1.5 billion in net debt. The deal was valued at $76 per share of Life Technologies.
The company created the Life Sciences Solutions group after the acquisition of Life Technologies, which consisted of its former operations and Thermo Fisher's Biosciences business.
Article continues below advertisement
Strategic benefits and opportunities of the deal
The acquisition of Life Technologies provided a complementary portfolio of products to Thermo Fisher. It also placed the company as a leading player in the genetic sequencing field. Life Technologies was the second-largest player in the genetic sequencing market, behind Illumina (ILMN).
This was the biggest acquisition in Thermo Fisher's history and helped the company advance its emerging market expansion strategy. The combined scale provided a great advantage to the company for facilitating value-based offerings to its customers.
Financial impact of the deal
The acquisition of Life Technologies by Thermo Fisher was expected to produce cost synergies of $300 million by 2017, $275 million through operating income synergies, and $25 million through revenue synergies.
According to the 3Q15 results, the company has shown successful integration over the years. It raised its synergy targets to $325 million amid strong growth in its top line and bottom line, with complementary product portfolios driving the growth.
The deal also provided significant tax efficiencies due to the more diversified geographical profile of the combined company.
Other players and ETFs
Other major players entering into big acquisitions in the US medical device industry include Abbott Laboratories (ABT), Becton Dickinson (BDX), and Medtronic (MDT).
The SPDR S&P 500 ETF (SPY) is one of the largest ETFs and provides diversified exposure to investors. SPY has an allocation of approximately 0.31% to Thermo Fisher Scientific.